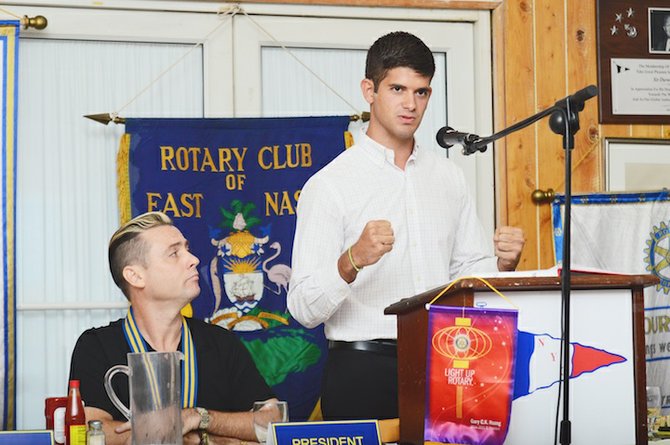 By NICO SCAVELLA
A young American CEO responsible for providing Bahamian youth with summer opportunities has announced his plans to establish a new community centre in the heart of New Providence.
Lucas Metropulos, a 21-year-old Duke University senior and president and CEO of non-profit organisation Fishing for Families in Need (F4FN), announced on Friday his plans to open the centre on Lewis Street in Grants Town and Bain Town.
Speaking to the Rotary Club of East Nassau, Mr Metropulos said the idea to create a community centre spawned from an invitation to expand F4FN to include children from Hay Street. He met community activist Valentino "Scrooge" Brown, who had been housing local kids in his own living room, and they talked about having some sort of "central meeting place" to alleviate the burden on Mr Brown.
"It just kept bugging me that there's all these kids there with no sort of activities or opportunities being pumped to them and they're just kind of walking around trying to find something to do," Mr Metropulos said.
The dream came full circle two years ago when he was conducting a beach clean-up, where he engaged in "small talk" with a young Bahamian male, who only made it to the tenth grade in school before being expelled for fighting.
"He honestly said 'what's the point? Graduate and have this degree and then do nothing?' He didn't see any sort of thing after. He kind of saw that society had predetermined that he would be on this one track, and so he thought that he couldn't go above it.
"So from that, at least for me growing up, I never had that kind of mentality and was fortunate not to have to. So that was something that I wanted to help change to show these kids that with hard work you can really do anything. With hard work and some more opportunities brought in you can really change your life even."
Mr Metropulos said when he returned last year his focus shifted to determining whether or not a community centre "was something that was feasible and something that was needed in the area".
"So that's what I did," he said. "Once again, I met with a lot of different people and just discussed with architects to lawyers to even some government members to Valentino to even some members in the area. Soon we determined that it was something that was needed, and I wish that I had the money to build it myself because I would have. But I realised that I could act as a facilitator and help to just move things along and keep things organised."
There was a setback, however. According to Mr Metropulos, plans and discussions were moving steadily but they could not seem to locate a suitable location for the centre. Fortunately, Edmund Dorsett entered the picture and proved to be "a Godsend" for Mr Metropulos.
"We had the same plan to create a community centre," he said. "Even before I met these guys, my mother wanted to establish a community centre. But because they had the same idea, they were looking for properties. They had already identified some properties down the street, but it didn't work out. So it happened by providence."
Mr Dorsett said that both Mr Metropulos and Mr Brown had been in negotiations for another property down the street, but the discussions fell through. Ironically, however, Mr Dorsett said his mother had always wanted to set up a community centre after having worked with young people in the past.
"Hope House" was a project where she would work with young, unwed mothers and girls who were impregnated and put out of school. She would teach the young ladies how to sew and fend for themselves in society.
"She's 92 years old, so she wanted to see something happen before she passed on. That's why she had no hesitation, and still doesn't in terms of lending support to the property for the project," he said.
Mr Metropulos plans to name the centre after Mr Dorsett's parents, calling it the Neville and Norah Dorsett Community Centre, to primarily be run by Mr Metropulos, Mr Dorsett and Mr Brown.
Mr Brown says the aim is to have kids attending the centre aged five to 18 - but also with classes for those older than 18.
He admitted the attempt to reach out to all ages is "unique," but the former Border Boyz gang leader turned community activist - who has survived being shot 18 times and a shotgun blast to the chest - said the focus on age is integral to changing the dynamics of life for youth in the inner city.
"By mixing the age up, everyone becomes a teacher," he said. "The five-year-old will be a seven-year-old soon, and he'll be teaching the next five-year-old coming up after him. "So why we're starting at an early age is to teach them leadership. Role models are missing so we encourage each one of the students that attend from the age of five. As they gradually grow they'll become role models themselves in the community that other kids look up to them."
Things appear to be moving smoothly for Mr Metropulos and his endeavour. He said that he has already received donations from Atlantis, UBS Bank and Wendys, while new Bahamian mega-resort Baha Mar has expressed interest in helping with construction materials.
He said he has already met Minister of National Security Dr Bernard Nottage about his plans.
"I just wanted him to know what we're doing," he said. "I thought that it's always good that, anywhere you do a project to have some sort of local government as well as the whole government just knowing what you're doing. So maybe down the road they'll assist in some way.
"Currently there's a structure on the property, and he was saying that the government can't give us money to build the whole centre, but he would assist in the demolishing the building and hauling it all away, which is a cost that we would have had to incur. They're not hands off. Could they do more? Yes, especially in that area, but at least Minister Nottage has been respective of the process and wants to help."
Mr Metropulos said he is "optimistic" that ground could be broken "as early as Spring".
"I was told by a contractor that, once it's rolling, construction doesn't always take a long time in the Bahamas because you have to get it up before hurricane season pretty much. So hopefully by the end of summer 2015 you'll see a new structure there and you can drive by and say hello," he said.
The community centre is the second of Mr Metropulos' initiatives in the Bahamas. In 2007, he took his first trip to the Bahamas to visit friends, the Mailis family. While here, he was a part of many fishing and snorkelling trips, which he said "really opened my eyes" to the beautiful water that surrounds the Bahamas as well as the connecting Floridian waters, both of which he said he "never really appreciated."
He was profoundly affected when he learned the family donated their extra fish to poor neighbourhoods, and returned home enlightened.
Being the descendent of two generations of evangelists, he was no stranger to community service. After his mother suggested that he volunteer at a day care centre or a church, and with the help of some of his school professors, he created a non-profit organisation to "use fishing as a way to keep children engaged to then teach them about environmental science".
In 2012, he received a grant from Belinda Gates, Duke alumni and wife of billionaire Microsoft co-founder Bill Gates, to return to Nassau and run the programme with the Ranfurly Home for Children.
Since its inception, F4FN has expanded to Miami, Florida, and Durham, North Carolina, and Mr Metropulos has plans to extend it further to Freeport, Grand Bahama, Rhode Island, New York and St Johns in the Virgin Islands.
However, Mr Metropulos said that despite the growing success of F4FN and potential success of the Neville and Norah Dorsett Community Centre, he has no plans to merge the two.
"I want it (the centre) to be a Bahamian project, and the fishing project, I know the kids enjoy it, so I would love to keep that going and just have every summer for a few weeks offer it as a little summer camp for the kids," he said. "But by no means am I interested in blending the two. I don't think it would be a good thing to do that. I want to remain an entity that can take all these organisations and these people. I don't want it to have any bias towards one group or another."
Mr Metropulos is a native of Boca Raton, Florida. He majors in Public Policy and minors in Economics with a certificate in Marine Science and Conservation Leadership at Duke University. He has also expressed his intent to take up law. x