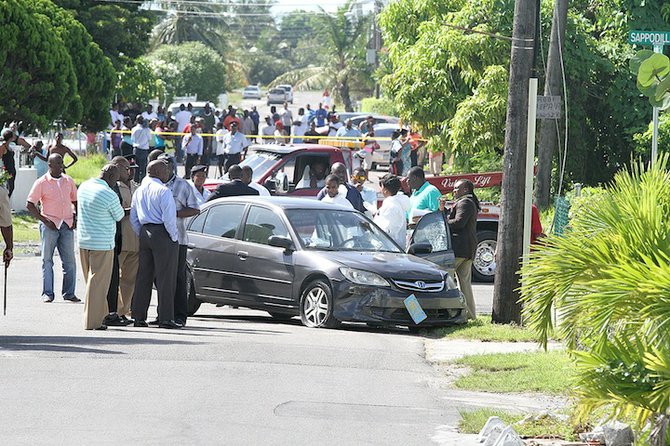 Police are investigating five separate shootings in less 12 hours that left two women and two men dead and another man in critical condition in hospital.
The latest incident took place shortly after 8.30am.
According to reports, the victim was driving through Pinewood Gardens when he was shot multiple times, while in his vehicle, by two men attempting to rob him. He died on the scene.
A few hours earlier, around 5.30am, another man was shot on East Bay Street as he was walking to his car, from a nightclub.
He was taken to hospital where he is listed in critical condition.
Two hours earlier, police were on the scene of another murder, this time in Cordeaux Avenue area.
According to police, two men where involved in an argument inside a nightclub in the area, when one of the men left the club and returned a short while later.
When the suspect attempted to re enter the club, he was stopped by a woman and another man.
The suspect then produced a handgun and shot the woman, the owner of the nightclub, in the chest and the other man in the abdomen. He fled the scene.
Both victims were rushed to hospital, where the female later died of her injuries.
An hour before this incident, police were called to the scene of another murder on Baillou Hill Road.
Police say a man and a woman were on a motorcycle, when people in a grey Nissan pulled alongside them and discharged several shots. The woman, who was on the back of the vehicle, was shot in the head. The driver of the Nissan then hit the motorcycle with the car, causing the man to fall. One of the men then got out of the car and stole the motorcycle.
A few hours later police recovered the motorcycle in the Yellow Elder Gardens area. A man and a woman were arrested in connection with that incident.
The first murder happened around 8pm Sunday.
According to police, the victim was standing outside a residence with another young man when two masked men approached him. the masked men then produced handguns and opened fire. One of the men managed to escape but the victim was shot multiple times. He died on the scene. The shooters then fled the area in a black car.
Police are appealing to anyone who may have any information in these murders to contact police on 911 or 919, the Central Detective Unit at 502-9991 or Crime Stoppers anonymously at 328-tips.