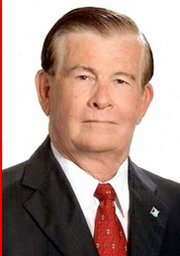 By RASHAD ROLLE
Tribune Staff Reporter
rrolle@tribunemedia.net
CENTRAL and South Abaco MP Edison Key suggested yesterday that FNM leader Dr Hubert Minnis may have spoken too soon in saying the FNM fully supports the proposed constitutional referendum, noting that the issue was never discussed with him.
"When (the bills were) introduced (in Parliament, Dr Minnis) spoke on it and said we have no problem and fully support the amendments," Mr Key said.
"I don't know whether he spoke too early or what, but I haven't discussed the issue with him yet," he added.
Mr Key's statement came a day after Montagu MP Richard Lightbourn told The Nassau Guardian he has concerns with at least one of the bills.
Mr Key also insisted he would not support a bill that could possibly open the door to same sex marriage. He was referring to bill four, which seeks to end discrimination based on sex. This involves the insertion of the word "sex" in Article 26 of the Constitution to make it unconstitutional to discriminate based on whether someone is male or female.
Some have questioned if this amendment could one day lead to gay marriage, however Prime Minister Perry Christie has adamantly refuted this possibility.
Mr Key said: "I don't have any problems with the referendum when it comes to equal rights for male and female. I  think that was a mistake in the Constitution when it was initially written. I think women should be equal to men in all aspects, whether it be salary or being able to pass on a nationality to their children."
Without being specific, he added: "Some of (what's in the bills) I don't think is necessary. The prime minister got into the question of same sex marriage. That's out with me if they come out with that. There's some other little flaws in there that I guess we have to be careful when dealing with."
MP for East Grand Bahama Peter Turnquest told The Tribune yesterday he had some issues over the bills, however he said he will address his concerns in Parliament tomorrow.
"I fully support the equality of men and women under the Constitution of the Bahamas," he said. "But as far as details of the bills are concerned, there's lots of things that needs to be discussed. The fact is when talking about citizenship, that is a precious thing to most of us. It is a privilege to be a Bahamian. It would be flawed to support an arbitrary issuance of citizenship without sober thought. I encourage dialogue. I want to ensure that we make a decision that we could live with not only in the short term, but the long term as well."
Mr Turnquest declined to detail his concerns with the bills. However, he said while the issue is not a black or white one as painted by some, concern that the fourth bill would open the door to same sex marriage is "valid".
Mr Chipman, the St Annes MP, said he is not breaking ranks with his party on the issue, adding that he fully supports Dr Minnis' position.
"If the leader says we will support the bills, then we will support the bills," he said.
Nonetheless, Mr Chipman said he is concerned about the wording of the proposed questions for the referendum, adding that they need to be made simpler for everyone to understand.
Central Grand Bahama MP Neko Grant declined to tell The Tribune whether he fully supports the bills or not, noting that he will speak about them in Parliament tomorrow.