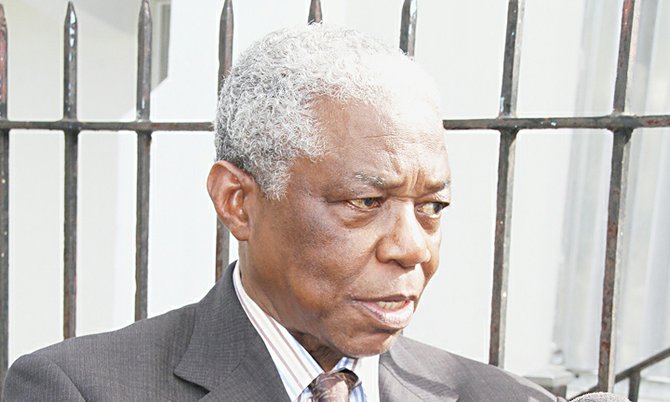 By AVA TURNQUEST
Tribune Chief Reporter
aturnquest@tribunemedia.net
QUESTIONS for the upcoming constitutional referendum have been altered as the government considers further changes to proposed amendments, according to National Security Minister Dr Bernard Nottage.
Dr Nottage, who has responsibility for referendums, confirmed that the Constitutional Commission has "added some words" to make the questions simpler based on his suggestions and public consultation.
He did not confirm whether there is a set timeline to finalise the bills, but reiterated that the government was prepared to push back the referendum date if needed.
"November 6 is the date we would wish to have it, but if we have to postpone it, we will," he said.
Dr Nottage said the government welcomed constructive feedback on the bills to ensure that there was full public support for the primary goal of gender equality, adding that it was "foolish" to consider differences in opinion to be an indication of poor leadership.
"The truth is that any political party, any grouping, is made up of individuals who sometimes have differences of belief," he said.
"What we seek to do is to talk with each other and come to a compromise, but in this particular one it is unthinkable that at this time in our development that we would wish to continue to discriminate against women in our communities."
Debate on the bills to amend the Constitution is expected to resume today; however, Dr Nottage said the revised questions will not be tabled today because the government's "diligent examination" of proposals was not yet complete.
He spoke to the press at an informational forum hosted by the Constitutional Commission for PLP members on Monday.
He added that it is evident that many people are unsure of the specifics of the upcoming referendum.
Dr Nottage said: "When you listen to the talk shows and we go on Facebook you can see quite clearly that in a number of cases people do not understand fully what the bills seek to achieve."
"Ultimately, the people will decide if they support these precepts, but I don't want them to get it wrong. I want them to know what they're supporting or what they're against."
PLP MPs Leslie Miller, Greg Moss, Andre Rollins, and Renward Wells have noted their reservations about some of the bills.
The fourth bill, which seeks to end discrimination based on sex, has become contentious as speculation continues over whether the amendment could one day lead to gay marriage. This involves the insertion of the word "sex" in Article 26 of the Constitution to make it unconstitutional to discriminate based on whether someone is male or female.
The government has adamantly refuted this possibility. Prime Minister Perry Christie has previously stated that the government would not change the wording of the amendment that has sparked heated public debate.
At the informational forum, Constitutional Committee Chairman Sean McWeeney called concerns over same-sex marriage "nonsense". Mr McWeeney challenged Bahamians to vote on whether or not they believed in the principle of equality between men and women.
Dr Nottage said the government is taking the feedback over the bills into consideration.
"It would be illogical to think that everybody would agree with everything so whatever has been expressed to us either by members of our caucus, or our party, or the general public, is receiving consideration."
He added: "The government is not against making amendments to the amendments if we think they are worthy and will get the support of the people, and that they will achieve what we are trying to do which is to provide women with equality of opportunities of every kind in this country."