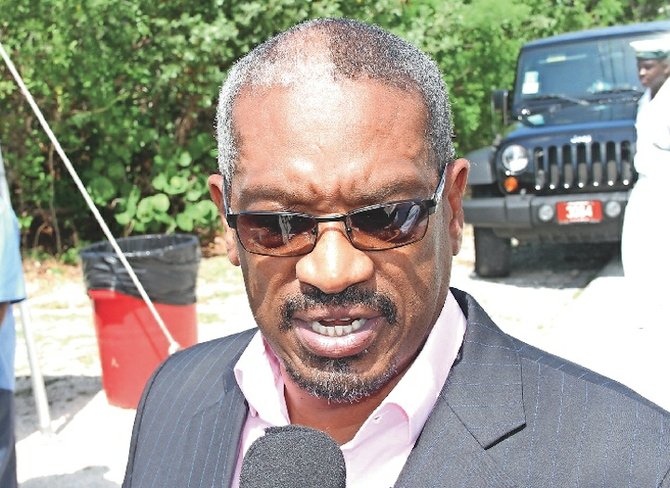 By RASHAD ROLLE
Tribune Staff Reporter
rrolle@tribunemedia.net
FREE National Movement insiders claimed yesterday that party leader Dr Hubert Minnis faced pressure to oppose the constitutional referendum bills by FNM council members who found his initial position too supportive of the Christie administration's proposals.
Speaking on the condition of anonymity, the insiders also claimed that council leaders believe Dr Minnis could secure support for himself by opposing the bills.
Their comments came a day after Dr Minnis, despite initially pledging his party's support for the four bills that seek to enshrine gender equality into the Constitution, made an about-face in the House of Assembly Wednesday, declaring that the party will not support the changes.
When contacted by The Tribune yesterday for comment on the claims about him, Dr Minnis did not take questions.
And in a move that raises further concerns about whether the opposition is fumbling in its approach to the constitutional referendum bills, St Anne's MP Hubert Chipman said yesterday that he does not have a position on the bills at this time. This came two days after he told The Tribune that he supported party leader Dr Hubert Minnis and his initial pledge of support for the bills.
He did not explain why he is now undecided.
Focus continues to be placed on whether the Christie administration can secure the necessary support for its proposed constitutional amendments.
Nonetheless, concerns about the FNM's handling of the issue first emerged after reports earlier this week that FNM MPs were not consulted prior to Dr Minnis' initial pledge of support on behalf of his party.
One FNM MP, Central and South Abaco representative Edison Key, said the issue had not been discussed with him before Dr Minnis' initial statement on the matter.
When contacted, FNM Deputy Chairman Dr Duane Sands downplayed concerns about flip-flopping and confusion within the FNM, telling The Tribune that the heated debate surrounding the referendum reflects the significance of the amendments being contemplated.
"People take matters like this very seriously," he said. "It has huge implications for the country going forward and we have to be candid and believe what we are saying and that we would have no problem with our children, grandchildren and great grandchildren having to deal with what we put in place. Given the short time frame that this particular thing has been given to accomplish what's necessary, a huge amount of soul searching is going on. People wanted a clear, quick fix but I doubt seriously that it's going to come off that way. We're talking about something that is very important and it is my fervent hope that we achieve the goal that was set out."
Dr Sands said he supports the four bills.
PLP Chairman Bradley Roberts said he is trying to comprehend the opposition's and, in particular, Dr Minnis' position on the issue.
"I am hoping that good sense and reasonableness will return to the forum because we owe it to the women to bring this matter home," Mr Roberts said. "We can't on one hand say we support them and do something to pull the rug from under them."
He criticised Dr Minnis' "latest Jekyll and Hyde like episode of flip flopping and backtracking" over the constitutional bills, saying it showed he was "unstable in his ways, does not support equal rights for women nor equality for all under the law".
Mr Roberts said his change of stance showed his word "cannot be trusted and that he does not stand on any principle".
"Additionally, with his new position and theme of 'fear,' 'doubt' and 'disaster', Dr Minnis is demonstrating uncertainty about, and has effectively turned back the clock on, women's rights and equality for all under the law".

He called his statements in the House on Wednesday an "irrational outburst" and said his behaviour calls his leadership and general decision making process into serious question.