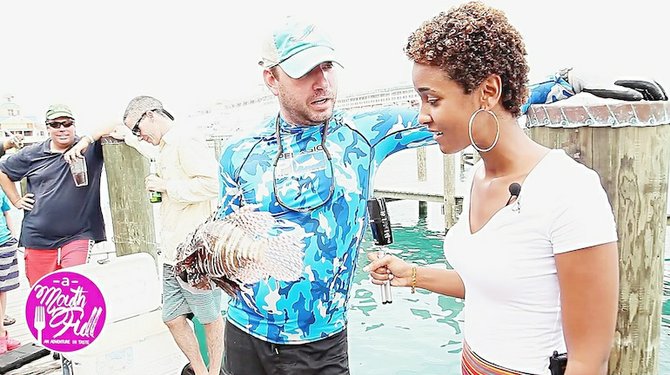 By ALESHA CADET
Tribune Features Reporter
acadet@tribunemedia.net
TAKING the Bahamas on an adventure in taste, the new online entertainment show "A Mouth Full" is giving viewers an updated look into their favourite restaurants and kitchens across New Providence.
From five-star restaurants to your favourite hole in the wall spots, the show's producers said "A Mouth Full" was created to keep people taste buds salivating.
The five to 10-minute webisodes that make up "A Mouth Full" are hosted by Andrica "Dre" Smith, who dives into various local dishes like chicken in the bag, jerk meals and even takes on the dare to taste test delicious lion fish dishes. The show also gives tourists a fun, hip inside look into what to eat once they arrive in the Bahamas.
The debut episode, which featured a "Chicken in the Bag Taste Test' got more than 1,000 hits in less than 12 hours. Producers said viewers are consistently engaging on Facebook, sharing the shows and expressing their impatience for additional instalments.
The show airs every other Thursday and can be found on YouTube at "A Mouth Full 242". The most recent episode is entitled "Lion Fish Cook Off".
The inspiration behind this unique form of entertainment is journalist and producer Ianthia Smith. With a career in the industry spanning 10 years, the Nassau native said it has all been good to her.
"My writing has been published since I was in 12th grade; 17 years old. I wrote for The Nassau Guardian's student section, that has been nearly 11 years now. In my family I was always the one to tell the story and I always wanted to be the one keeping everyone in the know. My love for books, reading and debating and a dab of nosiness were the perfect platform for me to be a reporter. I always saw myself in a career where I was constantly talking or writing," she said.
Following her time at The Nassau Guardian, where she worked for five years getting training in the fundamentals in the field, Ianthia then switched to broadcast at Jones Communications, where she currently works as associate editor.
While Ianthia is a news journalist, she said her love for entertainment reporting sparked the idea of "A Mouth Full".
"I've always loved entertainment reporting so I wrote for local magazines like Profiles 98 and Ca Mari and e-life242, where I am currently a writer as well as editor," said Ianthia.
"It all started with 'The Click', which I co-host and co-produce, and created with my brilliant friend and co-worker Korvell Pyfrom. We partnered with Farreno Ferguson and it's been magic ever since. I just wanted people to see me and my craft in a different light, away from news sets and murder scenes. I knew I had this vivacious fire burning inside me where I could tell stories in a more laid back way and I went for it. With 'A Mouth Full', I only produce this show, but because food is such a unifying force and the culinary landscape in the Bahamas is so vast, I thought this was the perfect idea. I eat great food all the time from major restaurants to small cubbyholes, and I think everyone, locals and tourists, should know about these amazing dishes and even get the history on some of our favourite plates," said Ianthia.
'The Click', she said, is also a five to 10-minute entertainment show that features light-hearted, cool people, places and things to do, all wrapped up in fast-paced, fun and work friendly webisodes. Episodes air on The Click 242's YouTube page every other Wednesday. 'The Click' takes a closer look into art, nightlife, music, sports, fashion etc.
They have also scored some amazing interviews with local and international celebrities like Mimi Faust from VH1's "Love and Hip Hop Atlanta" and Taylour Paige from "Hit the Floor", who will be featured in this week's episode that airs today.
Ianthia's vision for both shows is for them to be a catalyst that ensures that Bahamians don't have to actually watch TV to watch TV.
"These shows are compact, edgy, fast-paced and short enough to allow people to get their TV fill anywhere and anytime: at work, at the gym, while shopping, at the beach etc. I also want to fill that void in local programming with modern, engaging entertaining shows," said Ianthia.
'The Click' is now into its second season and Ianthia said the likes, views, comments and shares are mind-blowing. She said the messages and notes she receives from people, whether online or in person, are always heart-warming and encouraging. "Finally! Entertainment TV is back in the Bahamas," some viewers tell her.
While the fan base is currently only online, Ianthia looks forward to one day reaching the masses and those people who are not as internet savvy but still deserve to be treated to some good Bahamian programming. Eventually, the plan is to make these shows a part of a bigger brand, she said.