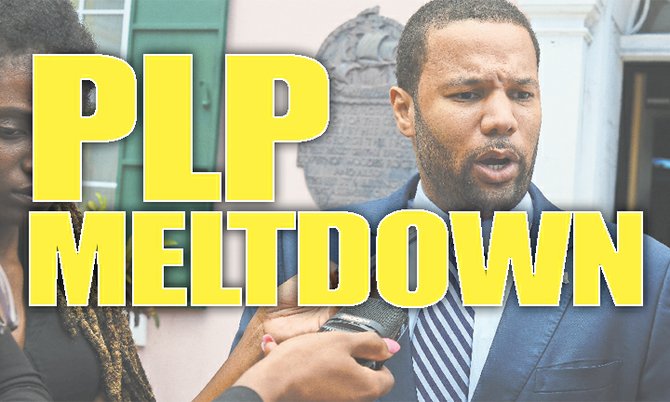 By SANCHESKA BROWN
Tribune Staff Reporter
sbrown@tribunemedia.net
FORT Charlotte MP Dr Andre Rollins said yesterday after listening to Prime Minister Perry Christie's contribution in the House of Assembly on value added tax legislation that it is obvious that the country "needs new leadership".
Lashing out at his own party leader yesterday, Dr Rollins accused the prime minister of "threatening" him for not towing the party line and "wasting the public's time" by quoting scriptures "instead of focusing on the critical debate."
This later prompted Acting Prime Minister Philip "Brave" Davis to call on Dr Rollins, whom he noted was appointed as Gaming Board chairman by the prime minister, to do the "honourable thing". Mr Christie left the country yesterday for Las Vegas.
Mr Davis said Dr Rollins was "out of line" for his scathing comments on the prime minister. He said he is willing to meet with the Fort Charlotte MP today to discuss how Dr Rollins can go about "doing the right thing".
"The prime minister and our leader is out of the jurisdiction," Mr Davis said.
"It pains me to know that the member for Fort Charlotte crossed the line today. When I say cross the line, I mean the fact that he is on that side, does not make him any different from us on this side. Perhaps because he is sitting there it has influenced him to think that he is (in the) opposition. He crossed the line. He called the prime minister's leadership into question and it was not right to do that and I will defend his (Mr Christie's) right. I defend his right and Dr Rollins crossed the line when he called into question the leader and his motives and in fact suggesting that he should no longer be leader. I will say no more, he (Dr Rollins) and I can meet, (Thursday) morning, as acting prime minister and acting leader of the party and we can discuss the manner in which he can do the honourable thing. I say no more".
This drew Dr Rollins to his feet. He said he stood by his earlier statements, calling for new leadership in the country. Dr Rollins also pointed out that government board appointments have expired and suggested that technically he is no longer Gaming Board Chairman.
However, Mr Davis said Cabinet had extended the appointments to August 31.
During his earlier contribution on the VAT debate, Dr Rollins had said: "The political threats uttered by the prime minister and the minister of finance this morning left me with one impression and that is, we need new political leadership in this country. When a leader and prime minister, a minister of finance, could take a debate as important and critical to the pockets of the Bahamian people as VAT and spend most  of his contribution threatening members on this side, it is evident that we need new leadership. He spent more time and energy trying to threaten us rather than give comfort and hope to people that are leery and tired."
Dr Rollins also said he is "sick and tired" of hearing the prime minister quote scriptures in the House because if he wanted to hear a sermon he would "go to church".
"This is very important and I assure you I know that there will be a lot of people angry at me for saying this, but I will say it, the prime minister's statement earlier today, when he constantly refers to Psalm 103, where he says 'Our lives are like grass...', We heard that a million times and now, quite frankly, I am tired of hearing it," Dr Rollins said.
"The reason I am tired of hearing it is, when I want to hear scripture, I will go to church. Mr Speaker, and I am not trying to be personal, but if you think that is personal, then it was personal for me to sit on this side and experience what I experienced today. For young Bahamians, this scripture is not a good analogy because as the cows in the early 90s were starved and died, the young in our country, the highest segment of unemployed in this country, are starving and crying because they have no grass to eat. The repetition of this same scripture, some old tiresome verses is, quite frankly, played out. We need the government to focus and facilitate the economic growth and leave the preaching of the gospel to the members of the clergy."
Dr Rollins' comments came two days after he resigned as party whip because he did not agree with the Constitutional Amendment Bills. He also claimed, last week, that orders are given to "politically destroy" members of Parliament when they express any views that differ from the Progressive Liberal Party.
Dr Rollins also blasted the Christie administration for appearing to use young politicians as "tokens" to help win the last election, but not wanting them to now freely express their views.
Mr Christie was absent from the evening session of the House yesterday. However, in his earlier contribution he indicated that anyone who goes against the party line and publicly criticises the official position of the government can expect "consequences".