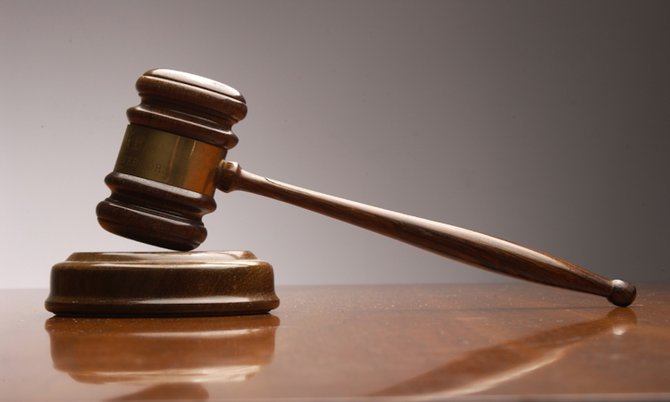 By DENISE MAYCOCK
Tribune Freeport Reporter
dmaycock@tribunemedia.net
IN their sworn evidence in the Supreme Court on Friday, defendants Dudley Seide Jr and Corderold Wallace denied robbing and shooting businessman Leslie Maycock at the Hawksbill Mini Mart on July 15, 2009.
Seide, 27, and Wallace, 26, are on trial for murder and armed robbery. It is alleged that they shot and robbed the businessman of a pouch containing $700-$900 in cash and his gold chain.
Maycock, 50, a retired police sergeant, died eight days later in hospital. Police arrested Wallace and Seide for his murder a month later.
Both accused gave evidence under oath from the witness box. They claimed that they signed a statement confessing to the crime after being brutalised and threatened by police officers following their arrests in August 2009.
They alleged that officers took them to Barbary Beach, made them strip naked, hog-tied them, and threw them in the sea. They claimed that an officer kept dunking their heads repeatedly underwater in an attempt to get information from them.
Seide said after the incident he was taken to the hospital after complaining of pain in his right ear. He said he told the nurse what the police officers had allegedly done to him on the beach.
Under cross-examination by prosecutor Erica Kemp, Seide told the court that in July 2009 he was not employed on a steady basis and did odd jobs, mowing lawns and working in construction. He lived in Bahamia with his mother at the time.
On the night in question when Maycock was shot, Seide claims that he arrived home around 10pm after leaving his aunt's home in Imperial Park.
Mrs Kemp claimed that Seide was seen around 7pm on the date in question with a gun after getting into an argument with another man.
"You were hanging out with Corderold Wallace, and some other men, in front of Kevin Miller's residence in Hawksbill when you got into an altercation with someone over cigarettes… and you pulled out a .380 firearm," Mrs Kemp said. Seide denied having a gun.
"The same .380 firearm you used to shoot Mr Maycock nearly two hours later," she continued. "No," Seide replied.
Mrs Kemp told Seide that he and Wallace were at the Hawksbill Plaza, where they hid in the darkness and plotted on Mr Maycock.

"You adorned yourselves with caps, bandanas, and proceeded to Mr Maycock after he closed his store. You pointed the gun while Wallace took his bag of money. You then shot Mr Maycock as he was coming at you," she said.

Seide denied this.
"Did you know that Mr Maycock was an ex-police officer?" she asked Seide. "Yes," he replied.
Mrs Kemp then accused Seide of discarding the stolen money bag in bushes in Hawksbill and hiding the gun at his aunt's residence in Imperial Park.
She also accused Seide of fabricating the story about being taken to the beach and brutalised by officers. He insisted that it did happen.
Also taking the stand in his defence, Wallace told the court that he knew Seide, but that they were never close friends and did not hang out together. He claimed that he was at his brother's car wash on July 15, 2009.
Wallace said he was arrested on August 19 while at the National Insurance Building Complex. He said officers questioned him about the murder of Mr Maycock. He denied having any involvement and said he did not know who shot the businessman.
He claimed that Sgt 772 Johnson instructed one of the officers to go in a cabinet and get some items, including duct tape, a cutlass, a baseball bat, boat rope, and a black tam.
Wallace further claimed that Sgt Johnson then threatened him and said that they had ways of making him talk. He said they took him in a police van and put the tam over his head. They arrived at a beach and made him take off his clothing. He claimed that officers bound his hands with duct tape and then tied them with boat rope and threw him in the water. He said he held his breath so that he would not drown.
Wallace said the officer kept pushing his head under the water and asking him who shot Mr Maycock. He claimed that this went on for about an hour, but he told them he did not know who killed Mr Maycock.
Under cross-examination, Mrs Kemp asked Wallace why he did not tell his mother or anyone what had happened. "I put it to that you are lying and making up a story. You said nothing about being brutalised to your attorney K Brian Hanna, or to the magistrate. You never said it because it never happened."
"You said police tied you with duct tape and with a nylon boat rope, and you did not have any ligature marks on your hands, I put it to you that it never happened," she said, but Wallace said it did.
Mrs Kemp also told Wallace that he signed a statement and the record of an interview that was taken on August 19. When Wallace claimed that he could not read, Mrs Kemp said that his mother told the court that he could read.
The defence closed its case on Friday.
The trial will resume on Monday when the court will hear closing submissions.
Justice Hartman Longely is presiding over the case. Erica Kemp and Desiree Ferguson appeared on behalf of the Crown. Lawyers Simeon Brown represents Seide and Osman Johnson, represents Wallace.