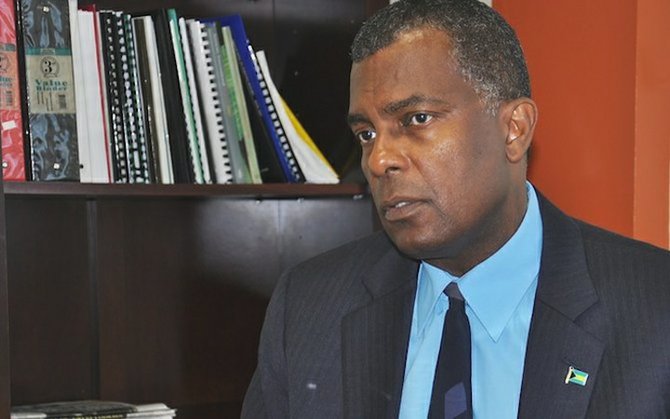 FOREIGN Affairs Minister Fred Mitchell said that, while dissenting opinions are valuable to organisations, those who have lost faith in the party should "look elsewhere".
While Mr Mitchell did not specifically refer to anyone in his remarks, the comments came days after PLP MP for Fort Charlotte Dr Andre Rollins severely criticised Prime Minister Perry Christie in the House of Assembly.
Responding to perceived "threats" from Mr Christie over his outspoken and dissenting views, Dr Rollins said the country needs "new leadership".
He also said he was tired of hearing the prime minister quote scripture in the House and also took the government to task for a number of outstanding issues.
Marco City MP Greg Moss has also been combative with members of his own party during debate in the House recently and has also lashed out at the prime minister.
During a speech delivered on Monday, Mr Mitchell said the PLP is not "a drawbridge upon which people can walk and just use for their purposes." He made his remarks before the National Progressive Institute at the Lynden Pindling Centre at Gambier House on Monday night.
"During the FNM years, part of their political strategy was to seek to destroy the reputation of the PLP and so effective were they that even some of our own youngsters have adopted uncritically their narrative," he said. "The bits about corruption and incompetence were part of their propaganda which is simply false.
". . .Dissidence should occur within rules and regulations. We are in a volunteer organisation and we voluntarily agree to the rules. This requires discipline, loyalty faithful and trust. When people lose that in those who are their colleagues and give public voice to this without airing differences internally then it is time to look elsewhere.
"The organisation itself has a role in protecting its own integrity by ensuring that its rules are obeyed and be shown to be obeyed."
Criticism
Mr Mitchell also urged younger members of the PLP to spread a counter-narrative to the "negative" press he said the government receives in the mainstream media, as he criticised reporters for lacking journalistic ethics.
He used the occasion to express condolences to the family of Latore Mackey, the deputy director of the Bahamas Information Services and press secretary to Prime Minister Perry Christie, who was fatally shot on Market Street early Monday morning.
The Fox Hill MP then criticised reporters at The Tribune and The Nassau Guardian for using their personal Facebook pages to make comments about members of government.
He said public figures are under more scrutiny than ever and that social media must be used as a tool to further the PLP's message.
"This is the atmosphere in which we deal," Mr Mitchell noted. "There are no lines it appears between private and public life, and it appears that reporters do not know that there are certain comments that they should not make because it compromises their independence in writing a news story.
"We who are public officials are in an intense period of scrutiny unlike any other in my political experience where before the public gets to digest one fact, there are others thrown at them and opinions come a mile a minute. The fact that this is the milieu within which we operate, does not change this immutable fact, I and I now say 'we' are responsible for our own image. We decide what are our image is or is not going to be."
He added: "It is important for us to counter this narrative of a PLP that is not fit to govern, spun by the FNM and its fellow travellers with a counter narrative where we challenge the ethics of those who run and write newspapers and call them to account for their ethics or the lack thereof in the same why they challenge public officials. Social media provides us the space to do so.
". . .The question then is what can National Progressive Institute do to help. If Latore were around, he would be able to tell you that a favourite saying of mine with which he agreed is that the PLP allows too much empty space to get filled with nonsense. In this milieu there is plenty of space to fill and if we do not fill it with our news, it will be filled with the news of those who oppose us."