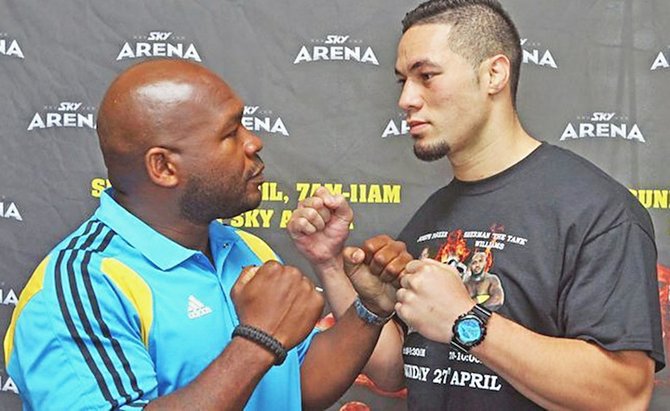 By BRENT STUBBS
Senior Sports Reporter
bstubbs@tribunemedia.net
Sherman "The Tank" Williams warned New Zealand heavyweight boxer Joseph Parker that if he thinks he's going to have an easy time in the ring, then he better think twice before fighting him in October.
The two are scheduled to clash over 12 rounds in the main event on October 16 at the Trusts Arena in Auckland, New Zealand, for the PABA and World Boxing Organisation (WBO) Oriental heavyweight titles.
Before leaving for Las Vegas where he will undergo a seven-week training camp with Kevin Barry, he was a little respectful for the much shorter, but power- packed Williams.
"This fight is my toughest fight for where I am at the moment," said Parker, who took care of American Keith Thompson in a third round technical knockout in his last fight on August 9 in Sands Bethlehem, Bethlehem, Pennsylvania. 
"He's a fighter with a lot of experience. He has fought a lot of the top fighters around the world, the likes of (Evander) Holyfield. He's got a good chin, he's proved that."
Just 22 years old, Joseph will enter the fight with a perfect 10-0 with nine knockouts. The orthodox fighter also holds a slight advantage over Williams at 6-feet, 2-inches. A giant over the 34-year-old Williams, the elder journeyman at 41 is 5-11 with a 36-13-2 win-loss-draw record.
In his last fight on November 22, 2013, at the Ritz in Raleigh, North Carolina, Williams pulled off a fourth round unanimous decision over Earl Ladson to get back on track after losing his previous two fights by decision to Gerald Washington on June 8 and to Robert Helenius in Helsinki, Finland, on November 11, 2012.
The three fights came after Williams won both the WBO China Zone and WBO Asia Pacific heavyweight titles with a 12-round decision over Chauncy Welliver at the Grand Waldo Conference and Exhibition Centre in Macao, China.
The Grand Bahama native, who lives and trains out of Florida, said his goal is a simple mission and he's not going to let Parker ruin it.
"I'm Sherman 'the Tank' Williams from the Bahamas and I'm coming here to fight and do what I always do," Williams said. "Whether it's to the body or the head, if I see an opportunity I'm going to take it."
Williams even gave Parker a sneak preview of what to expect.
"I'm going to bring vicious lefts, vicious rights and do whatever it takes to take these titles from Joseph," Williams said. "He's the New Zealand champion, I'm the Bahamas champion and we're fighting for the WBO Asian Pacific, a couple titles I held back in 2012, so I still feel like I am the Asian Pacific champion."
In his impressive climb up the ladder in just two years as a pro, Parker clinched the New Zealand National Boxing Federation heavyweight title on October 10, 2010 with a second round decision over Afa Tatupu at the Trusts Stadium, the same venue in which he is scheduled to square off with Williams.
On April 26, 2014, Parker was named the interim PABA heavyweight champion after he stopped Marcelo Luiz Nascimento in the seventh round. He then went on to win both the PABA and WBO Oriental titles on July 5 with a seventh round TKO over Brian Minto.
"The groundwork I have done already certainly helps me with this fight," Parker said.
"But I've also got fights under my belt, he hasn't fought for a while. I'm going back to Vegas to train hard and learn a lot more for this fight as well."
Williams said he just wants Parker to come to fight because he will definitely be ready.