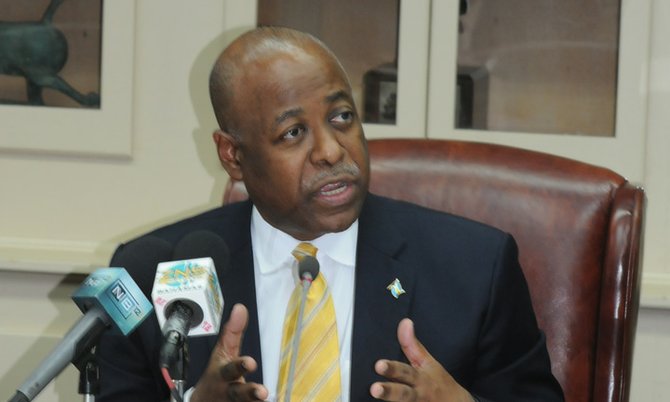 By RASHAD ROLLE
Tribune Staff Reporter
rrolle@tribunemedia.net
TEN web shops have paid their tax arrears in time to remain open during the industry's transitional period and are eligible for operation licenses, Tourism Minister Obie Wilchcombe said yesterday.
He noted that the debt the web shops paid amount to $5m, adding that the response the government has received from the sector was "very good".
Monday was the deadline to pay tax arrears for the period July 1 to November 24, 2014 for web shop operators wishing to remain open during the transitional period.
Mr Wilchcombe previously said that web shops owners who failed to pay their tax arrears in the time allotted face disqualification from the process of obtaining licenses, which are expected to be issued by May 2015.
A more definitive statement about the status of the web shops that did not pay their tax arrears before Monday's deadline is expected early next week.
According to information from the Ministry of Finance, there were at least 251 web shops in operation run by 35 different companies in 2013.
Attorney Wayne Munroe told The Tribune recently that at least four web shop operations closed down before the Gaming Bill made its way to Parliament this summer.
Later this month, the Gaming Board is expected to publish a notice about its intention to issue a request for proposal (RFP) for licenses.
Mr Wilchcombe has said that the government intends to issue a maximum of eight licenses.
Asked for his assessment on the matter, Mr Munroe recently said he would be surprised if more than half of the web shops currently in operation remain in business by this month, with compliance costs expected to prove too hefty for many of them to bear.
His statement came after Island Luck, the country's largest web shop operation, made 47 people redundant because their positions were not provided for in the Gaming Act which came into force last week Monday.
The government hopes to generate at least $12 million annually from web shop taxes.
Prime Minister Perry Christie said in September that the government stands to collect $25 million in penalties, back business license fees and application fees payable during the transition period.