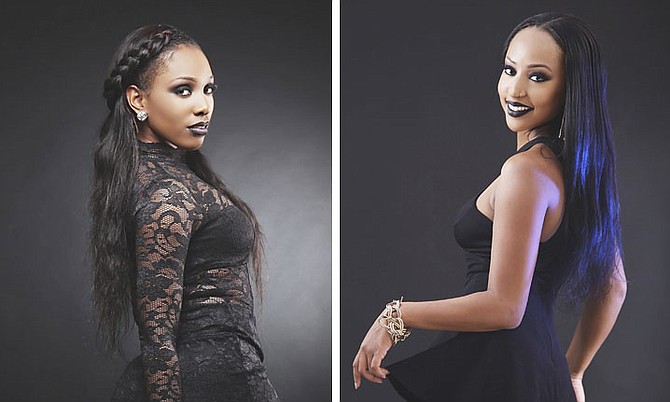 By ALESHA CADET
Tribune Features Reporter
acadet@tribunemedia.net
THE EVENT that is known for painting the town black for one night will celebrate its 10th year anniversary under the theme "Let loose" on December 20.
For years, K O Productions has added new concepts and creative expansions to the BlackOut entitled parties. From the locations and entertainment selections, to the exclusive booth sections and most memorable of all, the BlackOut beauties.
The 'Miss BlackOut' featured was first included four years ago at BlackOut 6 where contestant Sharon Rolle was named the very first winner of the contest.
Showtime, a representative of K O Productions, said in the past they purchased stock photos of American models to be featured on the BlackOut promotional flyers. However, as the event started to become a staple on the Bahamian entertainment calendar, they thought it was fitting to feature up-and-coming local models to make every aspect of the event truly Bahamian.
Past winners following the inaugural Miss BlackOut were Periska Rolle as Miss BlackOut 7, Barcia McIntosh as Miss BlackOut 8 and Karen Symonette as Miss BlackOut 9.
Out of 12 Miss BlackOut contestants this year, Alicia Sullivan and Khia Munroe came out on top; Alicia representing Nassau and Khia representing Freeport. The inclusion of the Grand Bahama edition of BlackOut 10 is also a first for the series.

With their entry photos posted to the K O Productions Facebook page on November 1, the ladies were competing to receive the highest amount of "likes" by the November 4 deadline. Alicia won, having received 976 likes and Khia came in second with 768.
Alicia said her mother and a close friend were the motivation behind entering the competition. For Khia it was kind of spontaneous, as she was in a 'Whatsapp' conversation when she came across the BlackOut 10 flyer. After joking around with her friends, Khia decided to go for it.
"I sent out tons of broadcasts messages via Whatsapp asking persons to like my picture. I asked persons to forward the messages to their contacts as well. I shared the link on Facebook a number of times and also asked my friends to like and share it. I worked day and especially night while the others slept. It was hard and indeed very tedious, but it was worth it," said Khia.
Before the competition, Khia said did not realise how powerful social media could truly be.
She said she is aware that this power can also be abused at times, but in her case it brought her nothing but success and encouragement.
"Not just because of the fact that I won the title, but because persons who truly care for me, persons who may not have known me, saw my picture, looked past the glam and the make up and saw a young lady with pride, morals and drive; these persons have supported me and for that I am grateful," said Khia.
Sharing the same excitement about winning, Alicia said during the competition she found herself constantly checking the "likes" on the photos of the competing ladies. There was one that came real close to her numbers, but Alicia said during the last few hours her "game face" was on. She had her friends and family promoting her photo at "double time".
"It's feels amazing to actually be the winner of Miss BlackOut 10. I am very happy to be a part of this fun and new experience. I believe that the outcome will bring both exposure and fun, however, the reason that I decided to participate was that I believe I can represent the company and the event in ways expected of me. With my family and friends supporting me I've definitely built the courage and I'm looking forward to what's coming," said Alicia.
Contest organisers said the title of Miss BlackOut calls for the winner to be the face, spokesperson and serve as the brand image of the K O Promotions. The winners should possess elegance, poise, beauty, personality and class.
"The benefit to the winner is first and foremost a tangible reward in the form of cash," said Showtime. "Beyond trophies, every woman can use a little extra cash for the Christmas season, so we thought it was fitting to reward the recipients. Secondly, they win a photo shoot with renowned photographer Farreno Ferguson."
Additionally, the promoter said they receive a complimentary make-up session with Mandisa Kerr, hair from the Beauty Shack, shoes from Stiletto Shoe Loft and clothing from I-Catching Boutique.
"We have had the opportunity to spend time with both winners, Alicia Sullivan from Nassau and Khia Munroe from Freeport. Both ladies are very friendly, attractive, great conversationalists with welcoming personalities that make everyone around them feel appreciated," said Showtime.
Alicia said she is excited for the upcoming events and promotional aspects of BlackOut 10 that she will soon be the face of. Khia said she will have fun on this new journey, and that she is looking forward to the new doors it will hopefully open for her.
"Being a mother, I can show my kids that once you put your mind to something and try, you can accomplish it, no matter how big or small it may seem," said Khia.