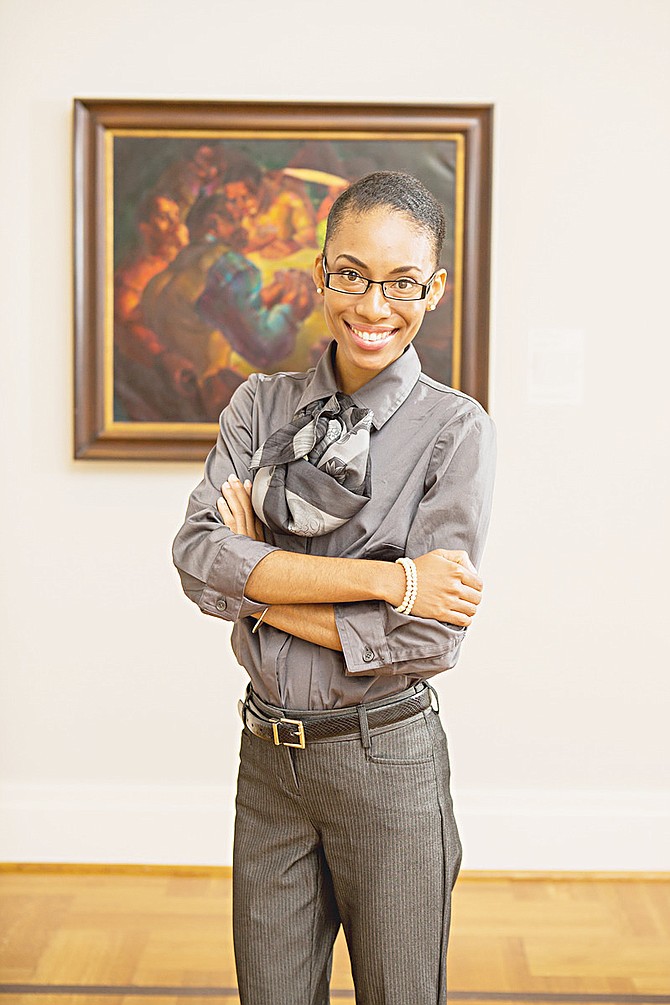 By JEFFARAH GIBSON
Tribune Feature Writer
LEAVING her post as the assistant educational officer at the National Art Gallery of the Bahamas was not an easy decision to make, however, Jordia Benjamin decided to take a leap of faith this past summer and moved to Missouri to accept a place at the prestigious St Louis Art Museum (SLAM).
Jordia is SLAM's 2014/15 Romare Bearden Graduate Minority Fellow – a post that allows her to assist in the development of current established youth and adult art programmes.
While working at the NAGB, Jordia assisted with the development and supervision of education programmes for children, adults and artists. She also developed and executed community and island outreach programmes, along with assisting in the development of educational materials for exhibitions.
At SLAM, Jordia's task is similar, as she works closely with the Learning an Engagement Department. She will help develop the museum's youth and adult art programmes, particularly in the Friends of African American Art Collector's Circle, docent programmes, Art in the Basic Curriculum and also the Teen Art Council, which was established by a past Bearden Fellow.
SLAM was founded in 1879 and is situated in Forest Park on the very same grounds of the 1904 World's Fair. The art museum is an encyclopedic museum in that it represents both local and global cultures through artwork.
The collections encompass art from ancient civilizations, African, African American, American, European, Islamic, modern and Native American Art, just to name a few.
"Someone once told me that elevation requires separation, so I took the plunge when the opportunity presented itself," Jordia told Tribune Woman.
"There's so much I wish to learn about this sector, and being in this environment with hundreds of wonderful works of many of the world's greatest artists and the history associated with such awesome collections, I just could not pass up.
"I am excited about living in a surprisingly diverse city with a rich history in culture and appreciation of the arts, both visual and performance."
Jordia attended Aquinas College and graduated from high school in Kissimmee, Florida. She attended Valencia Community College in Orlando, pursuing and completing an Associate of Arts Degree in Studio Arts.
She transferred to the University of South Florida in Tampa where she graduated with honours and received dual degree – a Bachelor of Fine Arts in Art Studio (concentration in painting) and a Bachelor of Arts in Art History. While a student at USF, she furthered her studies abroad by enrolling in the university's summer programmes in Paris, France, and the United Kingdom.
As an undergraduate Jordia received numerous awards and grants including the Exceptional Talent Grant, CVPA Diversity Enhancement Grant, Transfer Student Achievement Scholarship, USF Art Department Talent Grant and USF College of the Arts Study Aboard Grant.
During her time at SLAM, Jordia said she will apply the many memorable learning experiences she had as assistant art education officer at NAGB.
"At the National Art Gallery of the Bahamas I enjoyed creating outreach programmes and implementing them in schools throughout the country," she said.
"My interaction with teachers and students, though challenging at times, gave me an insight into the artistic talents of our young student population and the need for teachers to have information and opportunities to enhance their skills so that they can inspire their students to tap into their creativity for the arts, which was why I created the first NAGB Teachers Art Packet."
She said one particular event that brought out her Bahamian pride was getting students' artwork exhibited and collected in the Hamada Children Museum of Art in Japan earlier this year.
"In my capacity as educational officer it allowed me to work with the Ministry of Youth, Sports and Culture and the American Embassy on several youth programmes which helped raise enthusiasm among art students," she said.
"Hosting the gallery's Blank Canvas radio talk show, meeting seasoned and aspiring local artists made my experience very rewarding. I enjoyed watching emerging and upcoming artists that participated in the All-Star Amateur Artist continue to pursue the arts in their educational endeavours, and due to their AAA exposure they are recognised on the national level. I will miss the excitement and enthusiasm of the loyal children and parents that supported my Saturday ARTerNoons, which only reinforced the raw talent our youth has."
Jordia believes the responsibilities she had as the educational officer at NAGB exposed her to a cross section of the Bahamian society, from government officials who worked with her in creating art projects in various communities, to business persons, educators, all of which have prepared her to take on the tasks required of her at SLAM.

"I'm an optimist and I believe the sky is the limit. I take one day at a time and I try to learn as much as I can in each day. I do plan to continue my studies and obtain my doctorate, but in which area I haven't decided as yet," she said.
Jordia's work has been exhibited in several Tampa galleries: the Centre Gallery, Flight 19, Traditional and Digital Arts Gallery, the International Boba House and William and Nancy Oliver Gallery. She received an honourable mention in "Cityscape," the University of South Florida's Study Abroad International Photo Competition and was co-curator of "Je veux l'art", a 2008 Paris Study Abroad Exhibition at the USF Centre Gallery.
She has worked in several museums including the Contemporary Art Museum in Tampa and the Orlando Museum of. She is a member of two honour societies, Phi Beta Kappa and Golden Key International Honour Society. Jordia is the daughter of Crispin and Juieth Benjamin.