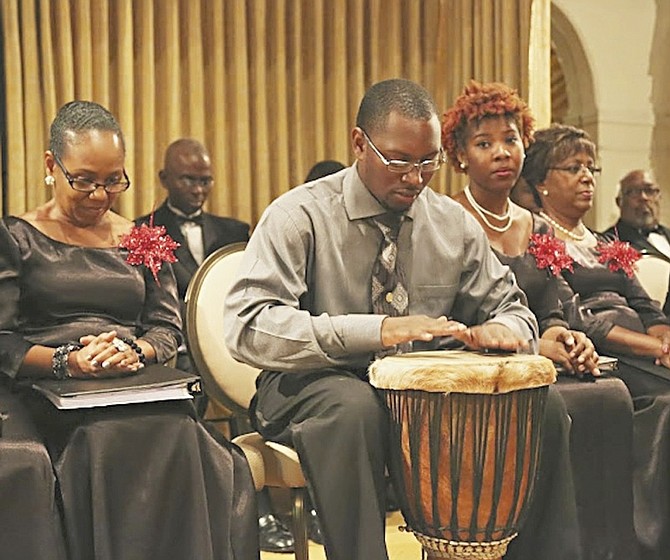 By LESH
Tribune Features Reporter
acadet@tribunemedia.net
IN A concert to benefit talented music majors at the College of the Bahamas, providing them with full scholarships, the Nassau Renaissance Singers (NRS) are excited to present their annual "Music For Christmas" holiday extravaganza.
The concert will be held this Thursday and Saturday at the Government House Ballroom, beginning at 8pm.
Choir Director Audrey Dean-Wright said the NRS have been providing full scholarships to deserving students for the past several years.
She assures that the concert will be worth attending as the NRS especially enjoy singing the songs of the Christmas season, and it is their wish to bring holiday cheer through music to audience members.
"It is for a great cause, educating our young people, some of whom would not have had the opportunity to continue their studies. It is wonderful to note that the last three recipients of the scholarships were all males, one of which, Ashley Knowles, is distinguishing himself as a student in a university in the US," Mrs Dean-Wright said.
Since the first concert was held all the way back in 1965, the event has always been a successful one which audiences look forward to each year.
Historically known as a Christmas choir, Mrs Dean-Wright said after their annual concert, the NRS do not meet again unless there is something special happening in the community and they are asked to perform.
"We have a faithful following that we are grateful for, but would like to encourage the wider community to come out and enjoy an evening of song and laughter. Afterwards join us as we celebrate the season with a glass of wine or cider," Mrs Dean-Wright said.
The line-up of entertainers for the upcoming concert includes a special artist, Gillard Louis, percussionist and present scholarship recipient who had the opportunity to perform with the orchestra at the famed Lincoln Centre, New York, in May this year. Mr Louis has also just recently returned from performing at the Colour of Music Festival in North Carolina. Mrs Dean-Wright said he is now being sought after internationally for his skill, musicality and professionalism.
The Voices of Paradise choir group will also take the stage to perform some of the holiday's greatest hits and all-time Christmas favourites.
Audrey said the segment that everyone looks forward to with great anticipation is 'Christmas Humour" by Patricia Bazard.
"If you know Patricia Bazard and her one-woman shows you know that she will have everyone falling out of their seats with laughter with a presentation that we all can relate to," said Mrs Dean-Wright.
Bahamian soloists such as Nikita Thompson, Demetrius Delancey and Lavanda Brown will also take part in the night's festivities.
Tickets for the concert are currently on sale for $25 dollars at Custom Computers in the Harbour Bay Shopping Plaza and Cable Beach. For further information contact 395-5994.