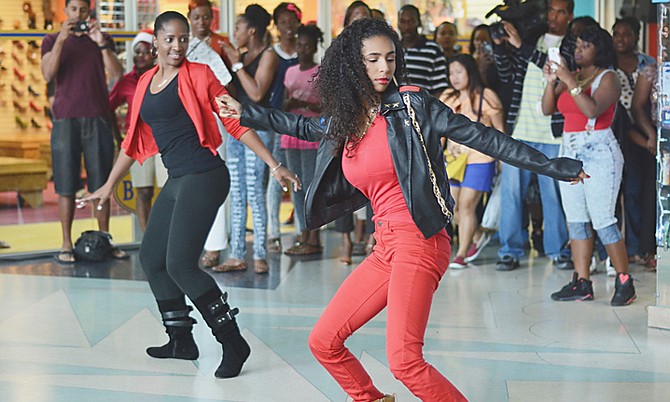 By JEFFARAH GIBSON
Tribune Features Writer 
jgibson@tribunemedia.net
AS the face of Cable Bahamas, local music sensation Angelique Sabrina played a pivotal part in ensuring that the grand opening of the company's newest flagship store in the Mall At Marathon was sensational.
Shoppers at the mall were caught off guard as Angelique led more than 60 dancers during a flash mob in the food last Saturday to help usher in the store opening. 
The dancers performed to a mash-up of a hits by the 16-year-old singer, who prepared for weeks to pull it off successfully. 
The flash mob was a joint effort between Angelique Sabrina, her father and manager Greg White, as well as Bahamian singer Julien Thompson.  
"Angelique has been privileged to play the role of the face of Cable Bahamas. We brainstormed everything and we decided to do something that has never been done before at a store opening. We wanted to do something that was fresh, innovative, that had a lot of pizzazz," said Mr White.
"Flash mobs are exciting, fresh, memorable and it is a moment that people will remember. We could have done what is always done, for example like the ceremonial opening of a store with a couple of speeches, and that is cool, but how many times has that been done. I think Cable Bahamas is an innovative company that has always tried to do things a little bit more modern and reflects more of a youth-oriented approach."
Angelique told Tribune Arts and Entertainment that when she was approached to play a part in the entertainment of the store opening she and her team decided that a flash mob was the best way to get people excited and engaged in the activities. 
"Cable Bahamas continues to make moves that I am really proud of, and to be working with them in this way, where we presented the opening with a flash mob, was fun. I love the way they incorporate entertainment and the arts into their company all the time and that is the way they present their business to the public. With me being someone who grew up in the arts and dancing that was what is important to me," she said. 
"Caribbean Slide" singer Julien Thompson also played a major part in producing the flash mob. He ensured that it went off without any hitches.
"A lot of people know me to do flash mobs and my goal was to do something unique and be on the cutting edge of things. So I decided to get my team and put some other people together to do a giant flash mob with Angelique. This was just a conglomerate of people who work in dance and came together. For me it is all about getting it to the next level," he said. 
During the event on Saturday, the media were given a tour of the new store, which also located in the mall's food court wing. 
David Burrows, head of Marketing at Cable Bahamas, said: "The ultra-modern REV store combines service, style and technology to create an environment that aptly represent the company's revolutionary brands." He said it moves the "seemingly mundane" tasks of bill payments, account inquiries, transfers, new service activation and disconnections into "a new realm".
According to Mr Burrows, the REV Customer Experience Centre is designed to increase the quality of customer service the company offers and to provide a venue for new and existing customers to experience the wide range of the company's services.