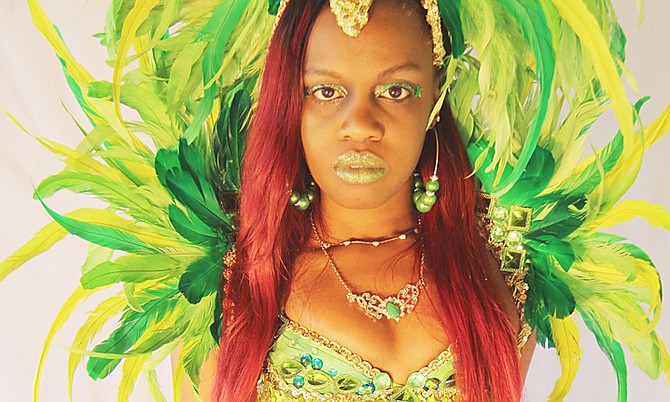 By JEFFARAH GIBSON
Tribune Features Writer
jgibson@tribunemedia.net
IF YOU are excited about Bahamas Junkanoo Carnival in May 2015, but have not yet decided on a group to hit the streets and dance with during the Road March, you may just want to take a closer look at the Xtasy Band. 
Xtasy officially launched during a special event at Hammerheads Bar and Restaurant over the weekend, giving party-goers a sneak peek of what can be expected when the group comes out next year.
The Xtasy Band is comprised of members, who because of their love of carnival and previous experience with the largest parade in Trinidad, have come together to establish their own brand. 
Xtasy was formed by a group of seasoned carnival-goers who hope to grow the Bahamas' event into one of the worlds largest carnival destinations.
"People can expect from the Xtasy Band a full carnival like atmosphere and experience through it's presentation of 'The Mystery of Atlantis'. The people can also expect an all-inclusive parade providing for its participants drinks, food, costumes and music, along with proper rest rooms and security services on the road," a representative of the group told Tribune Arts and Entertainment. 
"We feel that the group differs from other groups in that it has the leadership who has been exposed to Junkanoo and carnival experiences and would be able to successfully transition our experience into an international carnival experience. As mandated by the government, this group will provide workshops, training and jobs for our Bahamian people as the festival progresses." According to the group's representative, the leadership and the administration of the Xtasy are very excited about the Bahamas Carnival Festival set for next May. They believe the venture will usher in a new opportunities for artisans, food vendors, and will also give the group a chance to market their costumes internationally and locally, "creating a new revenue stream and a Bahamian experience for locals and tourist respectively."
"People participating in the Xtasy Band should be excited because it will be an all-inclusive band providing drinks and food for all those participating. Costumes will be easy to carry on the road. For visitors travelling after the parade who would like to take their experience with them, the costumes will be travel friendly and easily transportable. Costumes can be worn all during the parade without the masqueraders becoming tired. Additionally, the band will provide security on the road as long as the parade lasts," the representative said.
While the group's initial launch was held last week, Xtasy will be hosting a number of events in the upcoming months to help raise funds that will go towards assisting in costume production, marketing sales and more.
For more information, go to the group's Facebook page, Xtasy Band.