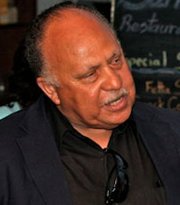 NOTED psychiatrist Dr David Allen has called for a curfew in crime hot spots and urged the government to bring in law enforcement officers from overseas to help combat the crime problem.
Dr Allen made the recommendations at a press conference yesterday.
"Only light and love can destroy the darkness and hate of the culture of violence and death in our midst," Dr Allen said. "This morning we come to stand for the light and love of God which we know in the end will drive out the darkness and hate out of this evil process of violence and death in our country."
He also suggested that the Christie administration use large containers to create mobile police stations in crime hot spots; put Royal Bahamas Defence Force officers on the streets with police; introduce a national service for youth and create a residential programme for young boys.
"Crack cocaine was the first drug that feminised addiction, ejecting mothers from the home," Dr Allen added. "Many of our violent offenders are the grandchildren of persons who fell prey to drugs in the 80s and 90s and did not have the opportunity to be brought up in a structured manner. We have now the staff in place that can help with such a programme. Once the government can give the Crown land, we feel confident that private funds can be raised to establish the programme."
Dr Allen said the nation must rally behind families of murder victims, such as Shantell Dorsett who lost two sons and a husband to murder. Ms Dorsett's 14-year-old son is in hospital after being shot with his brother, who died, on Saturday shortly after attending another brother's funeral who was killed about two weeks ago.
"She is a part of you and me," Dr Allen said. "She is our family. We stand to repent. We admit as a nation we have dropped the ball of justice in providing the proper programmes to bless our children and young people."
Dr Allen said with the average age of a murderer between 16-24, it is evident the country has fallen down on developing initiatives for young people.
"As a result, we are facing or contributing to a holocaust of our young males. They are the 'living dead' who live apart from our Bahamian dream - many are biologically dead, others are languishing in prison, others are hanging on street corners cognitively impaired with the ravages of alcohol and drug abuse while still others linger in hope of finding employment while being preyed upon by the powerful youth gangs who seduce them to a life of violence and crime."
Up to press time, there were 116 murders this year, according to The Tribune's records.