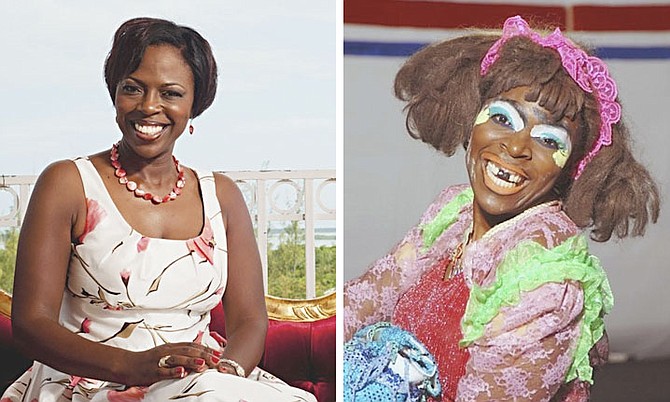 By ALESHA CADET
Tribune Features Reporter
acadet@tribunemedia.net
THIS weekend, the comedic character who captured the hearts of Bahamians for more 15 years is making her final appearance. For many she was an inspiration, a source of laughter, a friend on stage; she was Dynamite Daisy.
This Friday and Saturday, Dynamite Productions will bring to the stage for a final time the audacious Dynamite Daisy in a play entitled "Who Move My Dynamite – The Grand Finale".
The show will take place at the Dundas Centre for the Performing Arts at 3pm and again at 8pm on both days.
Dynamite Daisy's boldness, wit and humour on stage are what people have grown to love about her over the years.
The actress and creator behind Dynamite Daisy, Terez Davis-Nixon, said this last show is focused on Daisy's family, her mother, brother and sisters.
Giving an update on Daisy's circumstances since her last show, Terez said she is lost and her family cannot find her. They are searching for her in this upcoming show, which is why it is called "Who Move My Dynamite". After finding Daisy, her family discovers that she has a few health issues.
Terez did not want to give away too much of the plot, but she said this show is where Daisy takes her final leave of Bahamian audiences.
The comedienne said the production is a follow-up to a show she did some years ago called "Daisy – The Valley and The Shadow of Death."
"That particular show was about Daisy's mother passing away, and of course all of the fighting that happened with the last will and testament and the argument around who was going to bury her – all of the shenanigans that usually go on when there is a death in the family. At the climax of that show what ended up happening was Daisy wakes up and realises that she was just dreaming, so that is why we can still have Mama in this upcoming show, because she was not really dead; it was just a dream," Terez said.
"Who Move My Dynamite", she said, starts with Daisy waking up from her dream.
Terez said it is a bittersweet feeling to end the character, and that is the sentiment shared by audience members who have found out that Daisy is making her exit.
"I have had a lot people ask how can I end Daisy. For persons who have been attached to her for many years and to now hear that she's going, it's hard for them. It's been a challenge actually writing this play, because how do I write a play without the emotional attachment? Especially with all of the things currently happening in the country – the tragedy with Dr (Myles) Munroe, who was an inspiration to me and an encouragement to what I was doing. He and his wife would physically speak to me and tell me to keep it up. I am close to the Bahamas Faith Ministries family and Lavard and Radel Parks also were fellow artists, and he produced many of my DVDs. So knowing that heaviness and then to write this last Daisy show as an end, it is so hard," she said.
Terez said she is a firm believer that there are seasons and times for everything, and she believes that God has spoken to her heart and said that it is time to put this down because there are other things he wants her to take on.
Terez said she is not going to stop producing and writing, but it is time for other people to get on the stage.
"Like Dr Munroe said, you have to pass your baton on. There are some upcoming comedians like Jaquay Adderley – he's going to be featured in the play because I want to authenticate him publicly to say that I believe in what he is doing," she said.
Other cast members of "Who Move My Dynamite - The Grand Finale" include: Sharon Whylly as Mama; Tina Lynch as Sussy; Ricardo "Mr Beeds" Forbes as Dr Abboca; Jaquay "Da Bubbler" Adderley as Detective Betrum; Antonio Thompson as Detective Brown; Gary Williams as Doug/John, and Kim Johnson as Nurse Colene English.
The show is assisted by Charlene Johnson.
For the cast and crew of Dynamite Productions, Terez said it has been a bumpy but good ride. She said many of them have become friends and have gotten so attached to the characters that they had a hand in deciding the ending.
"In March we are going to have the Dynamite Ball where I am going to honour seven of them who have been with me throughout the years. Many of them who I am going to honour are those who are not on the stage. Nicole Watson, my front of house manager, she will be honoured; Desirae Taylor, who has been my producer for many years, along with others. The chairperson of that ball is Lavette McFall," she said.
During the ball, Terez said she is also going to be honouring the person that first produced her stage show, the late cultural icon Kayla Lockhart-Edwards, along with Frank Penn in Freeport.
She said Daisy has been to every island in the Bahamas except for three, so she is looking forward to the theatre being filled on both nights this weekend.
"Because people have been so supportive of it, it has really helped it to continue on. Not only the shows, but our personal birthday parties, weddings and various events. I am looking forward to the feedback to be very overwhelming," she said.
"I believe that people are going to come from all over because this is the last show, just to salute Daisy and say bye. I am trying to keep it very happy, so I expect that there are going to be some mixed emotions. I am open to doing a movie in the future and one of my plans was to do a television sitcom, but I never recorded one."