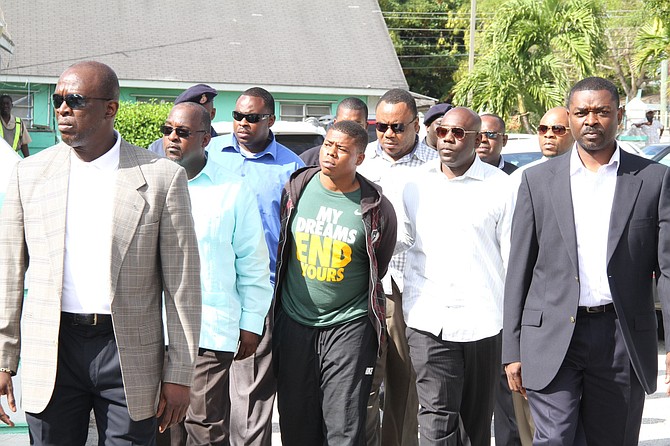 By KHRISNA VIRGIL
Tribune Staff Reporter
kvirgil@tribunemedia.net
A SMALL crowd of relatives and friends of murdered police Sergeant Wayne Rolle gathered outside the Nassau Street Court complex this morning to see the man accused of killing the officer on December 4.
Flanked by several high-ranking police officers, 25-year-old Dion Bethel - who was shackled and chained - was ushered into Court No1.
He was arraigned before Magistrate Samuel McKinney on two criminal offences.
In the first count it is alleged that Mr Bethel, of Quakoo Street, unlawfully harmed Sgt Rolle causing his intentional death. He was charged in the second count of armed robbery, in which it is alleged that he stole Sgt Rolle's $700 Samsung smartphone.
Mr Bethel was not represented by an attorney and he was not required to enter a plea.
Magistrate McKinney told the accused that the Magistrate's Court did not have the jurisdiction to grant bail or consider it because the charge was an indictable offence. Therefore, Mr Bethel was remanded to the Bahamas Department of Correctional Services until he is tried in the Supreme Court or granted bail.
The matter was adjourned until February 26, 2015 where a voluntary bill of indictment will be read to fast track the matter to the Supreme Court.
Kendira Farrington, 19, was also arraigned before the court for receiving.
It is alleged that between December 4 and December 20, Ms Farrington dishonestly received a cell phone, the property of Sgt Rolle, knowing that is was obtained through a criminal offence.
When asked how she would plead, Ms Farrington initially answered that she was guilty of the offence. However, her attorney, Terrell Butler, interjected, saying that her first plea was equivocal.
The magistrate re-read the charges and Ms Farrington then pleaded not guilty. She will be remanded until December 30, when the prosecution is expected to make a determination on whether she will be further remanded until February 2015.
She has opted to be tried before the Magistrate's Court.