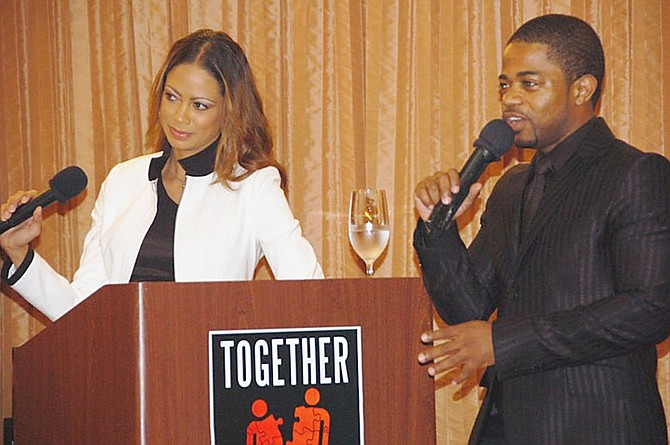 By JEFFARAH GIBSON
Tribune Features Writer
jgibson@tribunemedia.net
THERE will be no beating around the bush during the upcoming 'Straight Talk, No Chaser' event featuring an all-male panel who will engage an all-female audience in raw, uncensored conversations about what really goes on in the hearts and minds of men.
The event, which is presented by the Together Apart relationship company, aims to give the audience an insight into what men really think about courtship, commitment and cheating. 
Straight Talk, No Chaser will take place at the British Colonial Hilton Nassau Hotel on December 28 from 6pm to 9pm. It will be followed by an after-party at the Bullion Bar.
The event will be hosted by New York entertainer, educator and entrepreneur Chris Kazi Rolle along with Leah Rose, a former media personality and marketing executive.
Mr Rolle, a professional matchmaker and relationship coach who has been featured on VH1, CNN and The Oprah Winfrey Show, will share practical strategies to finding and holding on to love. 
Organisers said some of the burning questions women want answers to will be answered during the event. And while there is no single prescription or formula when it comes to matters of the heart and dealing with relationship issues, they believe women will learn valuable lessons during the event. 
Ms Rose will facilitate the conversation forum, which will include a diverse group of single and committed Bahamian men, aged 25 to 45, from various backgrounds and careers. 
Mr Rolle will serve as the in-house expert providing practical advice to the audience in between a series of Q&A rounds. The men will speak candidly, in this guided conversation, to a multi-generational audience of professional women, answering questions that women have submitted anonymously via Together Apart's website. 
Ms Rose said she is more than excited and pleased to team up with Chris Kazi Rolle to present the event once again. 
Mr Rolle was born at the Princess Margaret Hospital in Nassau to a Jamaican immigrant, abandoned at six months and then placed in The Children's Emergency Hostel. After living in different foster homes here on the island, at age 14 he was reunited with his biological mother in the United States. The reunion was short-lived and he found himself homeless on the streets of Brooklyn, New York. But he overcame the daunting odds to become a successful entertainer, educator and entrepreneur, working with the likes of Russell Simmons, Jay-Z, Bruce Willis and Queen Latifah.
"Perhaps my childhood would have been much better if my mother attended this event to gain this type of info and insight to guide her dating and relationship decisions," he said.
"I strongly believe that better choices lead to better relationships. Better relationships leads to healthier happier kids, and that is my bigger mission," he said.
Tickets for Sunday's event are $20 in advance and $25 at the door. A portion of the proceeds from the event will benefit the Children's Emergency Hostel.