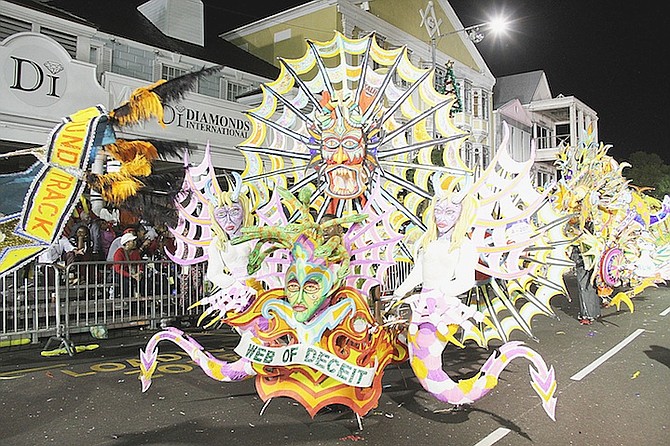 By RASHAD ROLLE
Tribune Staff Reporter
rrolle@tribunemedia.net
DELAYS marred the Boxing Day Junkanoo experience for many spectators, prompting officials to pledge to seek ways of improving the pace of the parade in future.
While the parade began on time around midnight Friday, a near one hour delay by the Music Makers group disrupted proceedings.
The group was expected to be the second on Bay Street, but was replaced by One Family, who took the second category A spot, but did not start performing until their original time slot around 3.30am.

Some Music Makers participants claimed that police did not allow their members through the starting gate, causing them not to get their lead pieces to the gate on time. Others said the group's truck suffered a major delay on its way to Bay Street.
The group was eventually disqualified for not having enough lead pieces.
In addition, the Valley Boys struggled to move one of its taller costumes out of the road after parts became tangled in a rope tied to electrical wires on Shirley Street.
It took participants about two hours to move it, according to Junkanoo Parade Management Chairman Douglas Hanna.
Meanwhile, spectators on Shirley Street waited hours before the first major group appeared, with the Valley Boys arriving around 3am.
The second major group, One Family, arrived in the area around 7.30am.
One Family Chairman Darron Turnquest said that delays are sometimes the consequence of a parade that is difficult to produce.
"The delay with results - and sometimes even the delay with the parade - becomes frustrating not only for those persons watching, but also from Junkanoo (participants)," he said.
"I heard the cry that other parades move very quickly. I don't think Junkanoo can be compared to the Macy's (Thanksgiving Day) parade, though. This takes a while, for those who understand Junkanoo, who understand costume set up and breakdown and who understands how groups get to Bay Street. "There were glitches in people getting to Bay Street and some groups clogging up the holding space where groups are really supposed to come through and get on to Bay Street. Some groups' costumes malfunctioned."