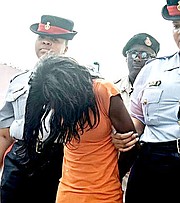 By LAMECH JOHNSON
Tribune Staff Reporter
ljohnson@tribunemedia.net
A 19-year-old was charged in the Magistrate's Court yesterday with assault and obstruction less than 24 hours after her second confrontation with immigration officers.
Dahene Nonord was granted $3,500 bail and told she would stand trial on February 2, 2015.
The teenager of Cowpen Road was brought before Magistrate Samuel McKinney on the two charges, which she denied committing on December 29.
It is claimed that she unlawfully assaulted Avia Beckford and obstructed the immigration officer while she was acting in the execution of her duties.
On the question of bail, police prosecutor Sgt Audrey Deveaux said she could not speak to the Crown's position on the issue because she was unclear on Nonord's legal status.
She said that the Department of Immigration officers were on their way to court to provide the magistrate with accurate information on this matter.
However, the defendant's lawyer, Fred Smith,QC, argued that their presence was not necessary as the accused was a person known to him, who had a valid certificate of identity until April 2016 and is awaiting a decision on her citizenship application to the Department of Immigration.
Mr Smith stressed that he was personally prepared to sign bail for Nonord whom he claimed was not a flight risk.
Sgt Deveaux then revealed that she had discovered a copy of what appeared to be Nonord's legal status.
The judge granted Nonord $3,500 bail with one or two suretors.
"When your bail is signed you'll be released from custody," he told the defendant.
After the arraignment, Mr Smith told The Tribune he intends, on behalf of Ms Nonord, to bring legal action against the Department of Immigration for an incident, which resulted in Ms Nonord being taken to hospital on Monday.
Mr Smith, noted that his client will file a suit for another incident involving immigration officers, which occurred when she was picked up and taken to the Detention Centre on December 3.
"Dahene Nonord is a feisty little lady who is standing up for her rights as a Bahamian citizen and she has every right to walk anywhere in the Bahamas freely, just like you and I," he said.