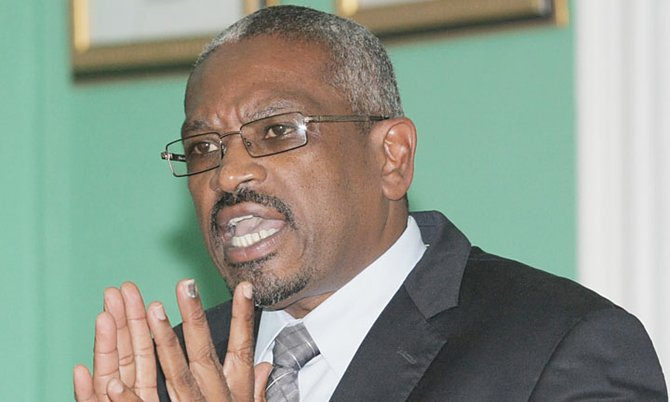 By KHRISNA VIRGIL
Tribune Staff Reporter
kvirgil@tribunemedia.net
FNM Leader Dr Hubert Minnis yesterday criticised the government for its inability to open the Critical Care Block at the Princess Margaret Hospital.
Dr Minnis, a former health minister under the previous Ingraham administration, questioned whether the Christie administration was serious about health care despite promises to roll out the first phase of National Health Insurance in 2016.
"This is an incompetent government," he told The Tribune, "this PLP government came in saying they believe in Bahamians. Well guess what, the FNM constructed a building to curb the long waits for health care, to deal with delays and cancellations of surgeries, and to assist with people flying from the Family Islands to learn that their procedure was cancelled. We put the infrastructure in place to deal with that and the facility still can't seem to be opened.
"This Christie led government, I am convinced, believes in seeing Bahamians suffer. The place needs to be opened immediately.
"The FNM is happy to see it commissioned, but we will wait for the opening."
Responding to claims that the Critical Care Block has not been opened because of staffing challenges, Dr Minnis said the government was to blame.
"How long will it take them to get staff? We had a programme where people were being trained to fill the positions for the Critical Care Block, but they stopped it as soon as they took office.
"We also had a programme in place to acquire the equipment, but they stopped that because they wanted to do business and dealings with their political cronies."
Public Hospitals Authority Chairman Frank Smith announced on Monday that the multi-million dollar facility was set to be commissioned on January 8. However, Mr Smith revealed that the Critical Care Block will still not operate fully following the commissioning because of staffing challenges. He said an opening date had yet to be confirmed.
The 66,000sq ft facility houses 20 private ICU rooms, 18 recovery beds, a central sterile department, new lab facilities, administrative facilities and a new main entrance, which is disability friendly.
It began under the previous Ingraham administration in 2011 and was to be completed in 2013.
Initially officials said the Critical Care Block would cost taxpayers $55m. However, it was later reported that the overall cost will be around $100m.
The Critical Care Block project has faced several delays under the Christie administration, which assumed office in May 2012.