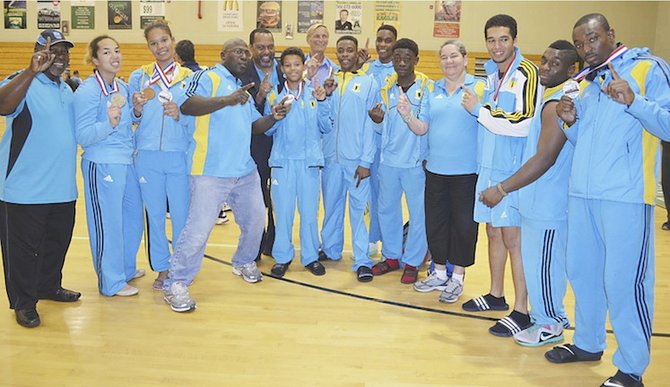 A 10-member team returned from the USA Junior Cup and Cherry Blossom Tournament with five medals, including a gold, a silver and three bronze.
The tourney was staged in Boynton Beach, Florida, over the weekend.
Leading the way on the medal podium was 12-year-old Ethan Cuffy, who won the gold in the 44 kilogram division. "The competition was exciting," Cuffy said. "I feel accomplished."
Cynthia Rahming, 19, won a silver medal in the 63kg division, 14-year-old Elaina Cuffy, won a bronze at 70kg, D'Arcy Rahming Jr, 23, won a bronze in 66kg Sr males and Omri Kelly, 27, won a bronze at 81kg.
"It was really tough, the early morning training paid off," said Kelly, a first time team member.
Other impressive performances were turned in by Desmond Bootle, Desmondo Bootle, Dre Hall and Ozeke Swain.
"Each team member should be extremely proud. Everyone performed as trained," said coach Albert Lil. "We were prepared and will make some adjustments for next time."
Cynthia Rahming, who is preparing for an appearance at the 2016 Olympic Games, joined the team from San Jose State University.
"This is my first tournament of the year," she said. "It helps me to see what I need to work on."
Rahming is a 2010 Youth Olympian and has embarked on a series of firsts. By winning a silver at the Cherry Blossom, she becomes the first Bahamian to medal in an IJF junior elite division with a very impressive series of matches against some determined opponents.
The Bahamas team consisted of members from Abaco and New Providence. They were joined by international coach and 2004 Olympian Rhadi Ferguson.
The Cherry Blossom tournament is in its 20th year and there were more than 300 competitors from five countries present.
"This was great experience for us," said D'Arcy Rahming, president of the Bahamas Judo Federation.
"Many coaches committed to coming to our Battle for Bimini which will take place in May due to the level of play they saw from the Bahamians."
Persons interested in Bahamas Judo should contact the federation at 364-6773.