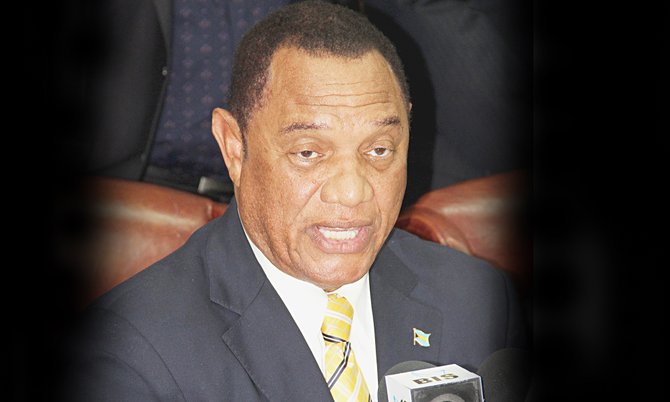 By RASHAD ROLLE
Tribune Staff Reporter
rrolle@tribunemedia.net
NO politician has stepped up and shown that he or she can replace Prime Minister Perry Christie as leader of the Progressive Liberal Party, former PLP Cabinet minister George Smith said yesterday.
His comments came a day after he and PLP chairman Bradley Roberts said there would be widespread support for Mr Christie remaining leader of the PLP in 2017, especially if former Prime Minister Hubert Ingraham returned to the political fray as rumours have suggested.
Mr Smith yesterday dismissed calls for Mr Christie to prepare to step down and make way for a younger successor, adding that no current Member of Parliament has done what it takes to warrant being leader of the party.
He said: "There are people out there who says that the older, more mature and experienced people in a party must step aside to make room for others, but that begs the question, make room for whom? Who are they and what have the done?
"Politics is about earning your position. You have to get to know the party, the people who come to the convention to elect a leader, the young, the old, the experienced, the inexperienced, you can't become a leader just because you look in the mirror and say, I'm a good fella, I'm smart, I got these degrees –– you have to know how the system operates."
And, Mr Smith said, there are currently "people in the House of Assembly who never should have gotten there to begin with, who don't know much about the fine system that is the Westminster System, and who don't know and understand the democratic system we have."
"There are people in the House of Assembly who can't contribute in a debate without having to read from a prepared speech. When I was in the house, you participated in debate; you spoke from copious notes – no one read speeches. Today they all are reading and sometimes they are reading it and you can tell they have done very little in terms of preparing it.
"No one has stepped up to the plate yet and demonstrated that they could capture the imagination of the Bahamian people, take the lead in forming policies, platforms and programmes that will cause the people to feel they could lead the party and the country."
Mr Smith also defended Mr Christie's performance as Prime Minister, saying that under his leadership there have been "signs of improvement in education, the economy and in addressing some of the social and health problems in the country."
He said: "I believe the Prime Minister is making a genuine effort to try and get investors. He very often lays out a good plan and agenda and it is for the ministers to say, the Prime Minister is laying out a good plan and it's in my portfolio to carry out."