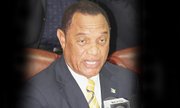 By AVA TURNQUEST
Tribune Staff Reporter
aturnquest@tribunemedia.net
PRIME Minister Perry Christie yesterday announced the release of more than $20 million in contracts for development of the Bahamas Agriculture and Marine Science Institute in North Andros.
The figure is more than triple the amount allocated in the 2013/2014 budget, and closer to the figure estimated last year for total costs over a five-year period.
The government's major thrust to revitalize the agricultural sector will also engender changes to land use and trade policies, according to Mr Christie, who said that the preservation of land for agricultural purposes, and the protection of local markets, was critical to the sustained growth of the industry.
Pointing to Andros, parts of Abaco and Grand Bahama, Mr Christie said that the country's agricultural future lies in the northern Bahamas due to large areas of available land and the abundance of fresh water.
With some 200 livestock to be imported over the next few weeks, the institute will "grow the city of North Andros," Mr Christie said at a tree planting ceremony to commemorate the official opening of BAMSI's commercial farm.
"A big part of making BAMSI a success will be a commercial farm," Mr Christie said. "This planting is symbolic of a new beginning and new purpose for this piece of work in North Andros represents the government's decision to make a concerted effort towards reducing the $1 billion worth of food we import to feed ourselves and our visitors.
"When we establish a crop calendar for Andros, it is not only what the school is growing and when the production will be, but what the other farmers are growing," he said. "If it works out the way I anticipate it will be worked out we're going to have a packing house that is going to be re-established that is going to be big enough for the produce grown at the school, and big enough to add the farmers here in North Andros."
Livestock operations at the farm are already underway, according to Ariett Lightbourne, BAIC agricultural manager at BAMSI, who confirmed there are 35 head of sheep and goats on site.
Twenty acres of pasture space has been fenced, along with an animal quarantine unit to acclimate and monitor the health of new animals.
The farm needs to have at least 5,000 ewes (female sheep) to become an economically viable production site, Mr Lightbourne said, adding that technological advancements such as embryo transfer and improved breeds will cut down on multiplication time.
"[Farm] will provide opportunities for the farmers plus the technology would make production efforts more efficient," Mr Lightbourne said. "Just with the breeds we're bringing in, it'll more than double the production capacity of the animal, with the improved nutrition that again will be a plus in getting the animals to market faster."
"I think right now we only supply about half a million dollars worth of mutton that the country uses, but the market is there for about 20 or 30 million. We would like to try and get as close to that as possible, and it is possible you just have to attract more people into the industry and show them what it's all about," he said.
He added that "the increase will not only be caused by the animal numbers, but also caused by us teaching the farmers and the students how to produce the animal more efficiently."
"We don't mind if they come here and we train them and they leave and start their own firm or go work for someone else, that is part of our goal, it's capacity building," he said.
Mr Christie said he signed off on minutes authorizing the Ministry of Works to issue contracts on Tuesday, adding that he felt the amount was closer to $23 million.
Last year in October, Mr Gray hinted that the costs for the proposed institute had far exceeded expectations.
"As we discuss the school more things have been enlightened to us, so what we thought we could do has been broadened by multiples," said Mr Gray.
"The figures," said Mr Gray, "are being toyed around between $12 and $20 million, so $4 million is not going to do it, the base will be $12 million, but the ceiling we hope will be $20 million, that will give us a good educational school for marine science and agriculture."
Just over $4 million was allocated in the 2013/2014 national budget to establish the new school; however, the government has projected the initiative will cost as much as $20 million over a five-year period.
In November, Works Minister Philip Davis signed eight contracts – together worth more than $1.3 million – for the construction of residential buildings.