By KHRISNA VIRGIL
Tribune Staff Reporter
kvirgil@tribunemedia.net
THE accuracy of the Royal Bahamas Police Force's crime statistics are being questioned as there were 40 per cent more rape cases treated in the hospital than were reported by the police.
According to documents obtained by this newspaper, Princess Margaret Hospital officials dealt with 147 rape cases in 2013. However, official crime statistics released by the authorities last month, reported 104 cases.
Hospital personnel saw a spike of 21 sexual assault cases in May.
But only six rape victims were seen in July.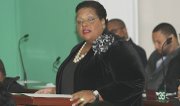 The differing figures has led FNM Deputy leader Loretta Butler-Turner to take authorities to task over whether they have been forthcoming of the safety of women in the country.
"We are seeing a differential here of 43 and the numbers presented are not reflecting cases seen at Doctors Hospital or The Rand Memorial in Grand Bahama," said Mrs. Butler-Turner.
"Clearly there is a huge discrepancy with what the police are publishing. I don't want to come out and say they are fudging the stats, but the actuality is that the police are not being upfront with the public on crime."
Generally, Mrs Butler-Turner said, police have been tight-lipped on rape cases. However, she urged officials to keep the public, especially women, informed of the true picture of crimes against them.
Most recently, was the gang rape of a woman living in Bimini. In another incident in December, there was an attempted rape of a woman during the morning hours in a residential area of Johnson Road. Before that, there was a string of sexual assaults in eastern New Providence. It was a matter that Mrs Butler-Turner raised in the House of Assembly.
FNM Deputy Chairman Dr Duane Sands said every Bahamian deserves to have full knowledge of the state of crime, no matter the mode of classification.
He said: "If a woman comes to an emergency room and says she has been raped, what happens subsequently if she withdraws the charges doesn't negate the fact that she may indeed have been sexually assaulted. When you start splitting hairs about the legal definition of a case that has been brought to trial, and the fact that you've had a victim, the question becomes what is the real number?
"The RBPF probably only considers persons who are pressing charges in their classification of rape victims. But as Bahamians we need to have an understanding of what is listed as an alleged rape, which is different from the legal definition of a rape, even though the personal realities of these victims are not much different."