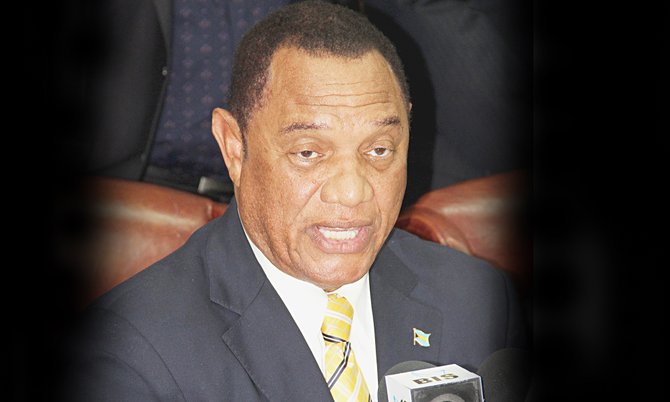 By SANCHESKA BROWN
Tribune Staff Reporter
sbrown@tribunemedia.net
PRIME Minister Perry Christie announced he will be forming an economic committee to advise him on how to move forward on the issue of web shop gaming in the Bahamas.
While remaining tight lipped on whether the government will regulate web shops despite the results of last year's referendum, Mr Christie said he has been meeting with local pastors and they have had "encouraging conversations" on how gaming can impact the government's need for additional revenue.
"We are working on dealing with it (web shop gaming). Sometime in the next few days I am going to appoint a council of economic advisors, who will be selected for their ability to analyse and understand the economy, who will be able as a body to advise me. In situations like that I will pass it on to them and they will advise me moving forward," he said.
"The government has not made a decision to regulate gaming, but Minister of Tourism Obie Wilchcombe has spoken out about it, the Chairman of the Gaming Board, Mr Rollins has spoken publicly and I have spoken my regrets about it and if I had to do it all over again, but there has been no formal consideration by the government. I have met with the pastors and I had discussed the matter with large numbers of pastors and I have had very encouraging conversation to the point where they understand the challenges the economy now faces and they understand the need for additional sources of revenue as to how we go about fixing that between now and the budget we will make those decisions, but right now we are working on VAT and everything is in place going forward with that."
The Prime Minister also said he is concerned about the large amounts of unregulated money being used by web shop owners in developments in the country.
"I think it is fair to say that as the Minster of Finance I am constantly faced with the need for revenue and with demands from people who are being taxed like people in the Coalition, who will say to me 'how is it fair for you to want to tax us and you have millions of unregulated monies in the country?' I have also had an indication from the Governor at the Central Bank where people are developing a new banking system in the sense that money is being loaned out and so forth and new developments are being financed and so these are matters I have to take seriously into consideration," he said.
"And I did say to the pastors that on reflection I ought not to have placed them in the position that I placed them in with the referendum because the church will always be the church and so I said what we are doing is we are looking at every opportunity to raise money."
The second thing we have to do as the Minister of Finance is to find the answer to monies that are in large amounts that are not in the bank, that are not being invested in the treasury, that have not been allowed to be exported, open bank accounts and therefore that money is finding itself in some developments. That is a major contradiction to the good order of our system and one way or the other we have to deal with it."
Earlier this year, Minister responsible for gaming, Obie Wilchcombe, said web shop gaming is "not off the table" and is still up for discussion – despite Bahamians overwhelmingly voting against the regularization and taxation of web shops.