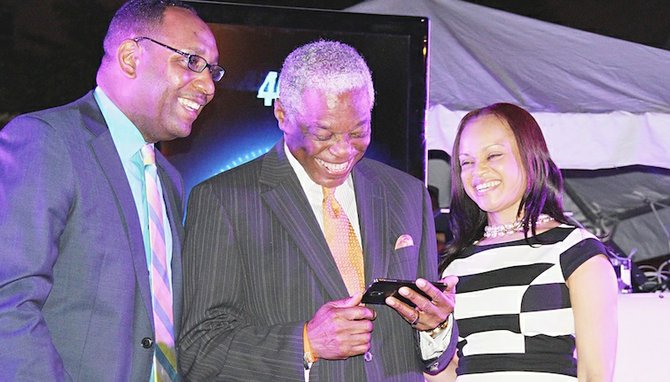 THE Bahamas Telecommunications Company launched its 4G LTE service for New Providence, Grand Bahama, Abaco and Eleuthera last night during a celebratory event in Pompey Square.
Other islands throughout the country will be included in the 4G LTE service in the coming months.
According to company executives, with the launch of the 4G LTE service, BTC is meeting the now, and the future needs of an increasingly mobile active population demanding faster speeds, better performance, agility and practicality from their cellular provider.
CEO Geoff Houston said at the launch that from the very beginning, LTE had been a part of BTC's holistic communications plan and that North America's telephony and broadband standard was always their point of reference.
"Tonight, the switch over to 4G LTE marks an important milestone for BTC and The Bahamas. In planning for and building a new and enduring network, our reference point was always North America, and LTE has always been a part of our plans, so with 4G LTE going live tonight, The Bahamas is now up there with the best you can get in America. Further, The Bahamas now has the biggest LTE network in the Caribbean region; it's absolutely the latest and greatest mobile communication network available. We are even ahead of most parts of Europe – where LTE has just barely been rolled out."
Geoff Houston said that BTC during this fiscal year would have invested some $18 million expanding mobile capacity – including the investment in LTE, and will invest millions more in the next 12 months as BTC continues to increase performance and capacity while connecting more of the Family Islands for nationwide 4G LTE coverage.
4G LTE is a standard for wireless-communication developed to increase the capacity and speed of wireless data networks and to manage future technology evolutions and needs.

LTE technology is capable of delivering mobile Internet speeds up to five times faster than at present, which in this instance will allow BTC customer's to stream, download, upload and even employ mobile game play and sharing.