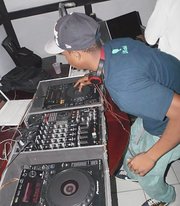 By ALESHA CADET
Tribune Features Reporter
acadet@tribunemedia.net
FOR YOUNG Bahamian deejay Sanchez Ferguson, a career in music was a distant dream, but experience has shown him that the future is much closer than previously imagined.
Keeping with his already catchy name, the 24 year old DJ Sanchez speaks on his life as a deejay with In Ya Ear.
"I always liked music and it was just a passion. From travelling and seeing a lot of deejays do different stuff, this inspired me. I was always interested in sound equipment as well. Back in 2002, I met DJ Crank and he taught me how to mix and scratch. From then he has just been mentoring me for the past thirteen years. We would still do things together every now and again," said DJ Sanchez.
He remembers the first event he has ever played to, saying it was a trying experience.
"I was playing at a Bacardi sailaway back in 2004. That was my first time playing and it felt good to be on stage and have all the attention on me but to be honest, I didn't do a good job, I actually sucked. People asked what it was I was playing," said DJ Sanchez.
Since then, DJ Sanchez said he learned how to read the crowd and connect with the different vibes. He said a deejay person has to know it is about the crowd's enjoyment not personal preference.
However, he also said the whole party vibe relies heavily on a deejay and what they can bring to the table.
"A lot of experienced deejays have told me as a deejay, you have to control the crowd as well. No matter how much a person comes to request a song, you have to know when to play that song or how to play it. I have always been more of a House and Hip Hop deejay. I never really did Dancehall too much and a lot of my bookings, especially as of lately, have been more for young professionals where I don't have to play Dancehall as much," said DJ Sanchez.
He calls Bahamian party goers somewhat spoiled because they get too familiar with the same songs being played at every event countless times. "They get use to this Reggae and Dancehall line up and you have to break them out of that," he said.
"A well rounded deejay is a good deejay. Any one can mix, but when you put a Mic in a deejay's hand, he has to be able to interact with the crowd and know how to get them involved. He has to know his control set," said DJ Sanchez.
For any deejay, DJ Sanchez said their delivery should be like a three course meal. "You have to give them their appetizer, main course and then desert. That is basically giving them the warm up session, then getting them grooving and then you got to give them the heat where they sweat their weaves out, and that is basically it," said DJ Sanchez.
DJ Sanchez said DJ Fines is a deejay he admires for having his back from day one.
"People actually think we are brothers and he has always given me words of advice even from before he won the Heineken Green Synergy competition and stuff like that. About two years ago I came into contact with DJ Xcitement for the first time when I was doing work for Radio House. He has helped me to transition from being just a promotional deejay to being a club deejay," said DJ Sanchez.
Currently employed at the new Club Ibiza Bahama from Thursdays to Sundays week nights, DJ Sanchez said the experience and exposure is wonderful.
"It helped me step up my game a whole lot. The idea and concept behind it is something that I have been waiting for a long time. It is all about young professionals, middle aged, more sophisticated crowd at Ibiza. I still do promotions as well with Burns House. From I was sixteen I was working for Burns House events," said DJ Sanchez.
As a young DJ, he said there is always something to prove in the entertainment world because you have to show people that you are worth it.
"Right now you have a lot of silver spoon deejays where their parents buy them a laptop and equipment and they can't play at all. Then you have those deejays who just want to play because they want the attention and the women. So right now I think for people to take you serious, you have to prove to that you are in this because you have talent and you are worth it," said DJ Sanchez.