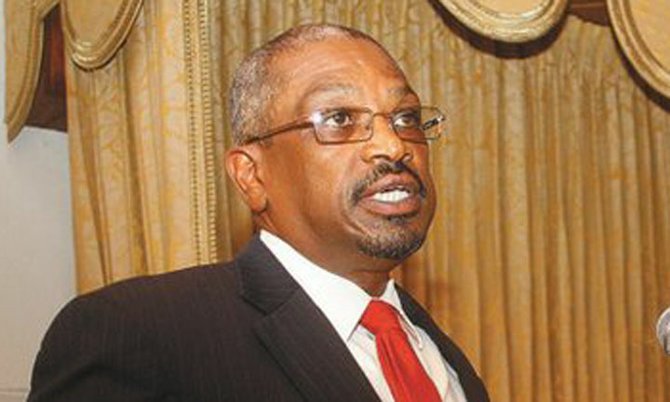 By KHRISNA VIRGIL
Tribune Staff Reporter
kvirgil@tribunemedia.net
OPPOSITION leader Dr Hubert Minnis urged Prime Minister Perry Christie to table in Parliament a list of the tax status of all parliamentarians.
The demands, Dr Minnis said, also includes information on whether each MP is current with their residential real property tax payments.
Dr Minnis' request comes as the opposition continues to apply pressure to the government over unpaid taxes following publication that VAT consultant Ishmael Lightbourne owes the government more than $7,000 in real property payments. Mr Lightbourne admitted his failure to pay the taxes for the last 10 years.
"It should not be that tax cheats," Dr Minnis said, "are sitting over us imposing new taxes even while they fail to pay their way as required by the law.
"I for one, Mr Speaker, believe it would be appropriate for the people of the Bahamas to be informed on the tax status of their leaders beginning with the Prime Minister and Minister of Finance and the Leader of the Opposition.
"And so I call on the Prime Minister to provide for the information of Members of this Honourable House and of the Bahamian people, a list of the residential real property tax status of all members of the House of Assembly. We can at least begin there."
Since word broke of Mr Lightbourne's delinquent account, pundits have questioned whether the government should set its sights on tax collection. It has been said that a more efficiently run tax collection service could assist in delaying a possible VAT implementation. Dr Minnis urged the government to consider this effort.
"If the collection of these taxes is substantially improved, the imposition of this new tax, which is so painfully agonising the Bahamian people, would not need to proceed at this time, and perhaps may never need to proceed.
"Furthermore an enlightened policy on real property tax need not be a burden on the average homeowner, but would arrest the neglect of huge amounts of commercial properties leading to a considerable expansion of economic activity, consequent upon such an enlightened real property tax policy," he said.
On Tuesday, FNM Deputy Leader Loretta Butler-Turner called on Mr Christie to fully disclose whether he at some point fell behind in paying his real property taxes, and, if so, the years involved.
She branded Mr Christie as the worst Prime Minister in the country's history. Her condemnation came following his admission that he was unaware of which PLP parliamentarians, if any, were in arrears with their taxes.