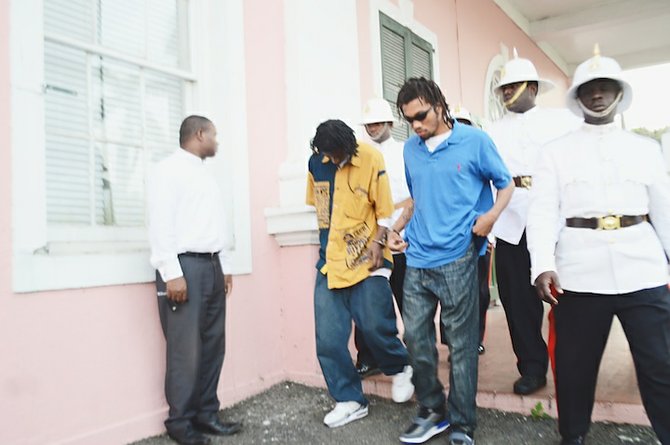 By LAMECH JOHNSON
Tribune Staff Reporter
ljohnson@tribunemedia.net
TWO men are now awaiting sentencing after a jury unanimously convicted them of the shooting and attempted armed robbery of a senior police officer.
A nine-member jury returned to Justice Carolita Bethell's courtroom at 4:57pm yesterday to decide the fates of Maurice Armbrister and Excel Josey for the late night attack on Supt Clayton Fernander outside his home moments after he pulled into his St Vincent Road driveway.
They had been excused at 1:15pm by the judge to deliberate on a verdict. By 5pm, the verdict on the charges they faced had been announced – guilty 9-0. While both men appeared stoic, their eyes registered disbelief.
Their respective lawyers, Wayne Munroe and Jiaram Mangra, turned to them from their seats and whispered to them as Justice Bethell thanked the jury for their participation in the month-long trial. He then excused them.
Justice Bethell then addressed the men, reiterating the jury's verdict and informing them that they would be sentenced on May 16.
She ordered a social welfare report to be done for both men before adjourning court.
The Next Step
Armbrister and Josey were escorted from the Supreme Court complex where some of their relatives cried and others encouraged them to hold their heads high.
"You could appeal this you gat money," one said, while another said: "Don't worry, everyone gotta get theirs someday."
Their lawyers spoke to the waiting press near the pillars of the Bank Lane court complex about the outcome of the trial.
"Obviously the jury they have spoken from their decision," Mr Mangra said.
"The defendants have indeed had their day in court. They have been, I would submit, properly represented and they have all gone through the entire trial process until we've gotten to the verdict which the jury has delivered today.
"We'll wait for the sentencing and then we'll take instructions thereafter because you know there's also the option of appealing the conviction and eventually the sentence if our clients so advise us."
Mr Munroe added that "we have a process and next is sentencing."
"And the step after that then, you can't file a notice of appeal until a sentence is imposed. I've been instructed to appeal so by the time we come in May we should have the draft of that ready and then we'll file that and then go on to the next step which will be the Court of Appeal."
Two Reasons
Supt Fernander, who kissed and embraced his wife after court had adjourned, spoke to the media on his feelings and state of being nearly a year after his life changing experience.
"For me right now, I'm pretty much good as you can see," he said with a smile.
"My hands they are moving. I'm still doing therapy and I'm pretty much ready for active duty. Commissioner of Police, Supt is reporting in for duty."
He didn't end this comments without giving thanks to a number of persons, God at the top for sparing him through the ordeal.
"I want to give thanks to the Almighty just for keeping me alive to tell the story," he said.
"I would like to say I believe it's two reasons why the Lord kept me; one is to get me closer to Him and two, to assist and continue the fight against crime to ensure that this li'l country of ours is a safer place to live, work, visit and play."
"I'd really like to take this opportunity to thank my family who was with me from day one. My wife, my mom and my mother and my other family members, they were with me from day one. The Commissioner of Police and the executive management team, including the entire Royal Bahamas Police Force that includes reservist and the civilian staff, I would like to thank them."
"And the members of the public, thousands of them who reached out with prayers and sent up a number of prayers. I really do believe prayer changes things and I want to thank the Bahamian people for their support, those who reached out by telephone call and visit me at home."
Case History
On the evening of April 10, 2013, Supt Fernander was shot multiple times in the arm and upper body when two masked, armed men confronted him shortly after he pulled up to his home in the St Vincent Road area.
Supt Fernander was armed at the time, but was not able to return fire.
Both Armbrister, 23, of Faith Gardens and Josey, 21, of Balls Alley, faced a charge of attempted armed robbery and attempted murder.
Armbrister was further charged with possession of an unlicensed firearm and ammunition – a black and silver Smith and Wesson .45 pistol with 29 .45 bullets.
Both men were arraigned in the magistrate's court six days later when they were not required to enter a plea to the first two charges.
Armbrister pleaded not guilty to the firearm and ammunition charges.
Eye Witnesses
During the trial, the jury heard evidence from two witnesses in the vicinity on the night of the shooting.
The first witness said that around 10pm, a tenant came to the door to ask for keys.
The witness, who is not being named for his protection, is a relative of the tenant's landlord.
"I went upstairs for the keys," he said, "and upon going to get the keys, I looked outside the room window and I heard two gunshots."
He said he saw two men run from Supt Fernander's yard.
The tenant took the witness stand next and told the court: "I was standing in front of the landlord's door."
"Then I observed a white car come around the corner at a high rate of speed. Mr Fernander's car pull in his driveway after that. He had a red Explorer," the witness said.
"What happened next?" assisting prosecutor Kristan Stubbs asked.
"I heard a scream and then a single shot," the jury was told.
The witness said when he walked out to the road to see what was going on, "I saw him (Fernander) running into the road and the white car pulled off."
The witness claimed the car was a white four-door Acura.
Security Footage and Cell Phone
Sgt 1492 Dale Strachan took the witness stand to give evidence about the analysis and examination of two important pieces of evidence retrieved from the scene and in the vicinity of the incident – a blue Blackberry Curve cell phone and security camera footage retrieved from Fernander's neighbour's DVR box.
Sgt Strachan said he received permission from the neighbour to transfer the footage for that night onto a compact disc (CD). The officer said he downloaded a software that allowed him to view the clips obtained from the DVR where in clip #3, he noticed a Ford Explorer headed south at 8:54pm and then another vehicle, believed to be an Acura, headed in the opposite direction.
The jury and court were shown the footage on a large flat-screen monitor where a flash of light could be seen for a short time before the light coloured vehicle, the suspected Acura, drove off.
Sgt Strachan further testified that he unsealed a package he received from officer Moxey that contained the cellphone obtained from the scene of the incident.
The officer said that as the phone was locked, he took the phone apart to retrieve a SIM and SD card. From the latter, he was able to extract several images of a fair-skinned male.
The jury was shown the images of the man dressed in a grey shirt with Oakley glasses over his eyes and plaited hair pulled into one. The man was also wearing gold rings on his hands.
The detective said using special software, he was able to extract some information about the owner of the phone. The recipient received a text on the day in question that said: "Baby please, it's me, you know what you doing tomorrow, I want to chill with you Maurice. Aint ga lie."
Sgt Strachan was cross-examined by Wayne Munroe, Armbrister's lawyer.
Mr Munroe asked the officer if any outgoing text messages were extracted from the SIM card. The officer said there was.
"There seems to have been a number of incoming texts between April 2 and April 8 and then they all stopped?" the lawyer asked.
"Yes," Sgt Strachan answered.
Mr Munroe asked if the phone had a GPS tracking device built into it. However, Sgt Strachan answered that some Blackberry's do, but he would be unable to determine that because the phone was locked.
Mr Munroe also asked the officer if he saw a white car following Mr Fernander's vehicle in the footage that he viewed.
"Not from the clips I watched," the detective said.
Confessions
Prosecutor Neil Braithwaite called Central Detective Unit officer, Inspector Hart, to the witness stand to tell the court about his involvement in the investigation of the case.
Inspector Hart said on April 12, 2013, he conducted a record of an interview with Josey while in the presence of a colleague. He said the suspect owned up to his involvement in the case in question.
Hart produced a video recording and the court allowed the jury to see the interview that occurred at 9pm that day.
After declining his right to have a lawyer present, Josey went on to tell police of what led to the late night accosting of Supt Fernander.
Josey's defence lawyer Jiaram Mangra, suggested to the officer "you had already devised this wicked scheme to incriminate him and the then suspect."
The investigator disagreed with the suggestion.
Mr Mangra further suggested that police could carry out their scheme because the suspect did not have access to a lawyer and they had "prepped" him for almost an hour prior to doing the record of interview.
"No, sir," was Inspector Hart's answer to the suggestion.
The Crown also produced a "confession" from Armbrister though the audio was missing from the video-taped interview.
Threats of Death
When called on to give a defence, both men claimed police threatened them with death if they did not "co-operate" and confess to the shooting of "their boss."
After Josey opted to take the witness stand to given sworn testimony and was asked by his lawyer if he had committed the crimes, he replied: "No, sir."
Josey said he was arrested in a doctor's office during a medical examination on April 12. He said he was taken to the Wulff Road police station before being taken to the Central Detective Unit. He was escorted to a general waiting area where a number of policemen were present.
"They was telling me they was going to kill me if I didn't tell them what they wanted to hear," the jury heard from Josey, who then claimed he was slapped by Inspector Demeritte, punched in the stomach by Inspector Hart and in the side by officers he was unable to name.
Josey said that Inspector Hart told him he was going to do an interview, but before that, he would have to recall a story they would give to him to say in the record of interview.
"Did they ask you if you wanted a lawyer?" Mr Mangra asked. Josey said he wasn't allowed access to his lawyer even though he informed them of one.
"How did you feel at that time?" Mr Mangra asked.
"I was scared. They say I was arrested for something I didn't do and threatened to kill me for no reason," Josey said.
The accused claimed that officers said he would go from CDU without being charged if he co-operated.
When Armbrister took the witness stand, he also denied any involvement in the shooting incident.
His lawyer asked him about the day of his arrest by police. Armbrister told the court that he was at a window when he noticed several men in plainclothes approaching his home, armed with firearms.
"It was about 1 o'clock in the afternoon. I was standing by my window and saw a bunch of plainclothed gentlemen with a bunch of firearms. So I break off running," the court heard.
He said he ran outside, was pursued and fired at until he heard someone say "police", which compelled him to stop.
"I turned around and put my hands up," he said, adding that he was then pushed to the ground by ASP Cash and was told that he would be killed for shooting "his boss".
He said he was brought back near his house by the policeman, pushed down in the road and stomped upon by the various officers before being pushed inside a police vehicle and taken to a home he'd never seen before.
"Do you know the persons who lived at that address, a Shena Taylor?" Munroe asked.
"No, sir," Armbrister answered. He said that officers brought a suitcase from the house and placed it in the police vehicle and then drove him to the Carmichael Road police station to be booked.
"They then carried me to CDU. When we arrived at CDU, ASP Cash gave my detention record to the front desk. When I reach inside there, Inspector Hart, Sgt Johnson, Officer Newbold and Inspector Demeritte were there," he said.
"Hart asked me how I could shoot his boss," Armbrister told the court.
He said he was physically assaulted by the officers who threatened to kill him if he didn't co-operate and "confess". The accused said, at one point, he feigned being unconscious from a punch only to be kicked repeatedly in his ribs.
Having had enough of the beating, Armbrister said he told them he would do what they said and claimed officers "prepped" him on what to say prior to a record of interview being taken.
Swift Justice
Yesterday's Justice Bethell began her summation of the evidence at 11am and excused the one man-eight women jury to deliberate at 1:15pm.
The jury had sent notice to the court at 4:35pm that they had a verdict. However, their return to the courtroom was delayed by the absence of Armbrister's lawyers.
The judge stood court down for 10 minutes to allow Mr Munroe and Jomo Campbell time to return as Mr Braithwaite informed her that they were on their way.
On their arrival, the case, which was tried before the court within a year of the shooting incident, concluded with a conviction.
"I'm so happy and very pleased with the decision made by the jury," Supt Fernander said outside of court.
"When you look at this trial for the whole month and the case presented by the prosecution, the evidence given was overwhelming in this matter."
"The prosecution, including the investigators, did an excellent presentation. You saw swift justice at its best in this trial and I must say this is what you call a team approach with the AG's office, and the police as investigators working together and this is the kind of results you will get when you work together as a team."
Mr Fernander encouraged the public to continue working with police to rid the country of  "these thugs who continue to try to terrorize the good citizens like yourself and plenty others."
"It's just a few of them and once we continue to work together we can get rid of these thugs and put them where they belong, behind bars," he said.