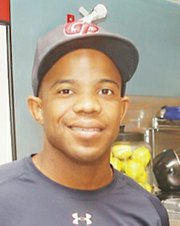 By RENALDO DORSETT
Sports Reporter
rdorsett@tribunemedia.net
AS he prepares to head into the next phase of his minor league career with the New York Yankees, Antoan Richardson continues to receive accolades from his winter league play.
Richardson was named as one of 52 candidates for the Rawlings' LVBP Gold Glove for his season in the Venezuelan Professional Baseball League. He was one of six centrefielders listed with Ezequiel Carrera, Gorkys Hernandez, Ender Inciarte, Paulo Orlando and Rafael Ortega.
Richardson was a 36-game starter for the Bravos de Margarita Club and hit .254 with 34 hits and a slugging percentage of .336. He led the team with six stolen bases, hit one home run, six doubles and drove in 14 RBI. Golden Glove winners will be announced January 15.
In November 2013, Richardson moved one step closer to reclaiming a spot in Major League Baseball, this time in the farm system of one of the most popular franchises in all of sports. The Yankees signed Richardson to a minor league contract with an invite to spring training.
Richardson spent last season in the Minnesota Twins organisation, but did not get the elusive "call up" to the majors, despite his productivity.
The 30-year-old outfielder, who played in nine games for the Atlanta Braves in 2011, was a member of the Twins' Triple-A International League Rochester Red Wings and their Double-A Eastern League's New Britain Rock Cats last season.
For the year, he hit .285/.402/.371 with both the Rock Cats and the Red Wings.
In his nine-year minor league career, Richardson has established a reputation as a player with a high on-base percentage. He has 318 steals in minors, 39 last season. For his career he has hit .278/.399/.347.
Originally drafted by the Baltimore Orioles in the 27th round of the 2001 amateur draft, Richardson stayed at American Heritage School in Delray Beach, Florida, until he was drafted for the third time, this time by the San Francisco Giants in the 35th round in 2005. He went on to play in the pipelines with both the Giants and the Atlanta Braves until the Braves called him up to the MBL, where he made his debut on September 4, 2011.
In a 4-3 win over the Los Angeles Dodgers, Richardson pinch-hit for starting pitcher Randall Delgado, and singled to centre field on the first pitch he saw in the fifth inning.
Speaking with the Tribune following the end of his latest minor league season, Richardson discussed the trials of a career in the minors.
"It comes to consistency. I know I still have a good opportunity to get to the majors. It's just a matter of me staying prepared and being ready at any moment to receive that call. Going through the minor league system, it's not an easy task and it takes a lot of will and perseverance," he said.
"Having received the call before, a lot of the younger guys definitely look up to me and seek my advice on certain things and I just try to let them know, the number one thing is to stay focused and keep everything in perspective."