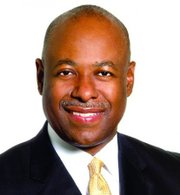 By SANCHESKA BROWN
Tribune Staff Reporter
sbrown@tribunemedia.net
 TOURISM Minister Obie Wilchcombe said yesterday tourism numbers in the Bahamas are "still good" despite a spike in crime in the last few months of 2013.
Speaking with The Tribune, Mr Wilchcombe said while there has been no new advisories from other governments or cruise lines warning tourists about crime in the Bahamas, every Bahamian needs to ensure that 2014 is a good year for the Bahamas.
His comments came after a news story on the Today Show, from three years ago, resurfaced on social media describing the Caribbean as having the highest murder rate in the world, according to a United Nations' report.
The report, from 2011, also said crime is impeding the development of the Caribbean and rape is at a "disturbing level in the Bahamas."
Mr Wilchcombe said instead of Bahamians "spreading and sharing" a video that is years old, they need to ask themselves what can they do to stop the scourge of crime in the country.
"Those who are talking or viewing should be saying 'What can I do to contribute to ending crime?' and 'How can I help?' Bahamians have to understand that police and the government cannot do this alone. Crime is the responsibility of everyone," he said.
"We must look at ourselves as a nation. It takes all of us to resolve this issue and if we don't, more negatives about the Bahamas will become viral. My argument is we are responsible. We must all do something."
Mr Wilchcombe said the Ministry of Tourism has amped up its campaigns to continue to drive more people to the Bahama.
"We are off to a good start this year. Our arrivals are good for Christmas and the New Year. We have our campaigns going on. We are also hosting more vents for travel agencies and tour companies to continue to show the world that the Bahamas is a beautiful place. We are doing what we have to. We are making appearances at various places.
"We will continue to work. We have our issues, but we have security and police officers in hot spots to protect tourists. We have been seeing arrivals of 4,000 to 5,000 on some days and our hotel occupancy levels are good. We have to work together as a nation to continue this trend. But I forecast 2014 as a great robust year for the Bahamas."
In December, Terry Thornton, senior vice president of itinerary development and revenue planning at Carnival Cruise Lines, said
the entire cruise ship industry remains concerned about the safety of passengers and employees in The Bahamas,
"All cruise lines calling in The Bahamas share the same desire for our guests and crew members to enjoy a safe and exceptional experience when visiting The Bahamas," Mr Thornton said. "We look forward to continuing to work, as an industry, with the Bahamian government to meet our mutual goals and objectives.
"The entire cruise industry remains concerned about incidences of crime in The Bahamas, including Nassau. As we have advised as an industry, it is extremely important that Bahamian officials continue to work to reduce crime to ensure the safety and well being of all visitors, including the millions of cruise ship passengers and crew members who visit The Bahamas annually."