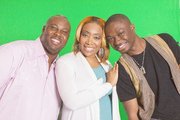 The new season of 242 Untapped is bringing new hosts and a $5000 prize, as judges seek out the Bahamas' next gospel recording superstar. Returning to judge is producer/coach Chris Roberts, international worship leader; recording artist Nadene Moss, singer/songwriter; Jonathan 'Jonny' Farrington and Vincent 'V-Mac' McDonald of Elevation Records, who wears several hats as host, director and creator of the show.
Scores auditioned with about 100 hopefuls receiving callbacks. Their journey from the initial audition to belting it out for the top spot will begin airing on Saturday, January 4, 2014 at 8 p.m on Cable 12. The show's website www.242untapped.com features video extras.
Viewers are not being told if there will be an appearance from last year's winner Shenique Thurston whose powerhouse vocals continued to win over fans following the contest. She has travelled the country and found her single Give Him Praise in heavy rotation on radio. It was the tenth most requested song for 2013 on a local radio station for which the top 20 list included four other Elevation Records artists.
Several of the runners-up, including Davian Chase and Malikah Pinder headlined their own concerts or were featured artists at some of the biggest gospel events of 2013.
The newest host for the show is Davrielle Burrows.
"Davrielle is the daughter of Dave 'The Ruffneck Pastor' Burrows, but she comes with her own claim to fame," explained V-Mac.
"She has been behind the scenes at some major youth and gospel related events, plus she's an author and an entrepreneur. She also has a personality that meshed well with the cast and crew and we are excited to have her on board. I know I am glad she's joined because that means she gets to do some of the co-hosting, which gives me more time to fine tune what we've got going on behind the scenes. Overall, though, we have a great team this season and some talent that is sure to keep people watching."