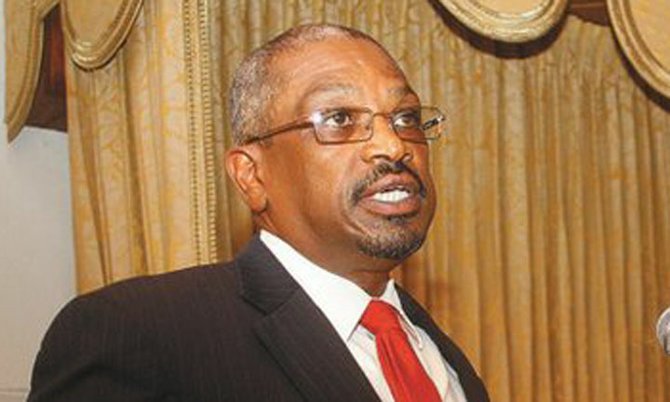 By RASHAD ROLLE
Tribune Staff Reporter
rrolle@tribunemedia.net
THE Free National Movement is prepared to "run the government from the Opposition" and on Wednesday will table "numerous Bills" in Parliament to that end, Opposition leader Dr Hubert Minnis said yesterday.
His comments come a week after he promised to table a Bill that would make it possible for death sentences to take place once again.
"Since the PLP doesn't have the fortitude to make decisions, we'll make the decisions for them," he told The Tribune, adding that he expects the government to accept his party's propositions.
A Constitutional amendment that will cut the London-based Privy Council out of the appeal process in cases where a death sentence has been imposed is among the issues the Bills are expected to address, he said.  
But he declined to discuss how many Bills will be tabled in total or which other issues will be addressed.
"If the government does not know how to do their job," he said, "I'm not going to let the Bahamas sink because of them. You're going to see us bring numerous Bills and run the government from the Opposition. If the ss PLP wants to sink, then the ss Bahamas won't go down with it. The FNM will ensure the ss Bahamas has a life vest on and will float while the ss PLP sinks."
Told of Dr Minnis' statement that the FNM will "run the government from the Opposition," PLP chairman Bradley Roberts laughed and said: "You tell me anywhere that happens in the world, and I'll send you a billion dollars."
And while declining to discuss the FNM's proposed plans for addressing the issue of capital punishment, Mr Roberts said: "I don't know who put that thing for Dr Minnis together, but this government is not opposed to capital punishment. The Prime Minister is a strong advocate of capital punishment. But going about bringing the necessary changes to allow it to happen is a legal quagmire."
During his national address last week, Dr Minnis said: "It is the considered position of the Free National Movement that immediate steps must be taken to restore the integrity and effectiveness of all laws on our books, including capital punishment."
"In so finding, we acknowledge the preponderance of modern research which asserts that it cannot be shown that the death penalty has a deterrent affect upon the mind of the would-be murderer. That may be so, but what is also clear in our Bahamas is that today there is a hardened criminal element who have nothing but contempt for law, order, or human suffering, and for whom there is no respect for human life even the lives of innocent bystanders, and children. At the very least there should be the certainty of sure punishment, and punishment which is appropriate to the crimes committed. Our policy is not based upon any concept of deterrence; it is based on the right of national self-defense."
"The Opposition," he added, "will table and publish in advance a Bill to amend the Bahamas Constitution so as to address several of the weaknesses in our procedures which have caused the Privy Council to overturn several capital sentences for convicted murderers in the past; and to strengthen and to enhance the integrity and effectiveness of the trial process in serious gun-related and murder cases."
The Bill, he said, will allow death sentence appeals to be made only to the "Bahamas Court of Appeal and nowhere else."
He said it will also give the Governor General the power to prescribe time limits for "the lodging and conclusion of all appeals against conviction."
The Bill, he said, will remove the Constitutional right to trial by jury "either at the requests of the Prosecution or at the request of the accused where there is a charge of having committed murder, manslaughter, or crimes involving the use of firearms to inflict harm or death, and particularly in instances where there is a likelihood of jury or witness tampering or intimidation."