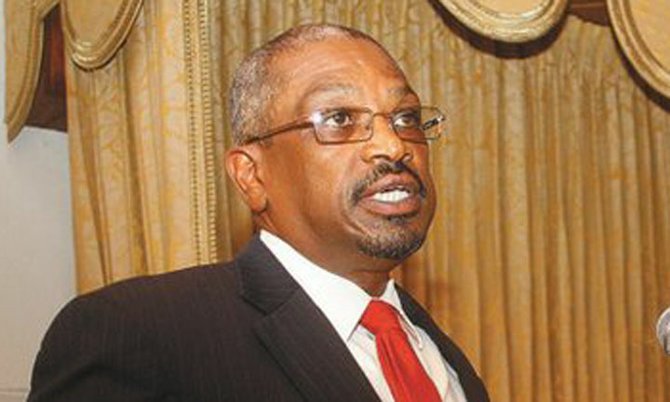 By RASHAD ROLLE
Tribune Staff Reporter
rrolle@tribunemedia.net
OPPOSITION leader Dr Hubert Minnis condemned the government yesterday for not moving to improve the Department of Immigration's identification checks system so the country could "avoid embarrassing situations".
His comments come a day after Financial Services Minister Ryan Pinder told The Tribune he personally apologized to a top banking executive who was taken into custody on Tuesday and held at the Detention Centre after telling immigration officers he did not have his identification documents with him.
Speaking with The Tribune, Dr Minnis said that after an incident last year when Immigration officials went onto Atlantis' premises and hauled away the resort's sea lion trainer in front of numerous tourists, the government should've already been moved to "digitize" the system and create policies that would avoid causing people to have such humiliating experiences.
"I think you should have policies in place not to discriminate against people," he said. "If an individual doesn't have their identification, a procedure should be in place to confirm their status without causing serious inconvenience. On many occasions we don't travel with any form of ID. Even drivers license, I should travel with it all the time, but sometimes I forget it, but we still have 24 hours to produce it. The common courtesy would be to follow these things up and ascertain the status of these people. "
Speaking specifically about the Tuesday incident involving Emmanuel Fiaux, executive director of UBS Bank, Dr Minnis said: "I'm sure he would've told the officers he worked at such and such a place. So for them, it should be just a matter of calling someone to find out if that's true. The entire system needs to be digitized so various departments could call and speak to each other, so just a press of a button would determine a person's status."
Referring to the current procedure as antiquated, Dr Minnis said: "There are better ways of doing it. We are in a different era and we have to move with the times. The government can't be doing things like they did during Loftus Roker's era because I think if we keep doing things this way it will have terrible repercussions."
Dr Minnis also questioned the fairness with which the government handled the recent controversy, asking if someone was also sent to apologize to others who have had negative experiences during the Immigration Department's identification check procedures.
"Did he (Mr Pinder) go and apologize to others that may have had a similar experience?" he asked. "Why select one person to apologize to? What happens to the Bahamian who was embarrassed because he was picked out from a crowd and asked to show ID, but didn't have it present with him? Because that person works Over-the-Hill or is of a certain financial status that person doesn't need an apology? You gon' discriminate against that person?"
"The Christie administration is demonstrating themselves to be governing very, very poorly," Dr Minnis said.