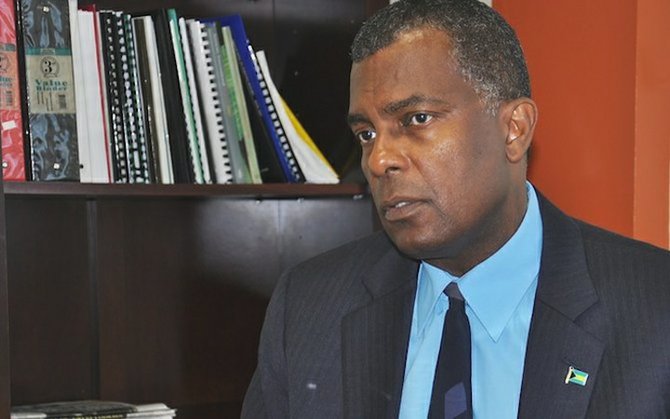 By SANCHESKA BROWN
Tribune Staff Reporter
sbrown@tribunemedia.net
IMMIGRATION Minister Fred Mitchell defended Immigration officers yesterday who were accused of "roughing up" a top banker during a road block on Tuesday.
Speaking with The Tribune, Mr Mitchell said he is "satisfied" that the officers did nothing improper and as far as he knew they followed the letter of the law.
"I do not comment on specific immigration enforcement issues because immigration officers know what their responsibilities are, they carry out their jobs and so far as I am aware there was nothing that was done that was improper by any immigration officer. I do not know the facts that would have led to the events reported in the newspaper so it's just not proper for me to say anything further beside that," he said.
"What I also said is, the officers are all trained, they know they have to be respectful and I have also advised the public that even though they may be impatient because of the checks, this is something which the public has asked for and so they should be equally as respectful to the officers.
"It does not do anyone any good to be rude and disrespectful to the immigration officers. They have a right to respect and they should also carry out their job respectfully and I am satisfied that's what is done across the board. I have only just returned to the island and the facts that I know say that the immigration officers performed according to law now, there may be other facts by which I am not aware."
Mr Mitchell also denied that Immigration Officers are intentionally targeting specific people in these road stops based on the colour of their skin.
"Law enforcement people are trained in law enforcement issues, they know what the Constitution of the Bahamas says," Mr Mitchell said.
"You have to have a reasonable suspicion that someone does not belong to the Bahamas in some way. So they know the law and they know that the law is that you are to carry out the law without fear or favour, without any regard to racial or political things. So I can also speak generally to the training they receive and everything which I know indicates that the immigration officers conformed to  the law."
Mr Mitchell's comments came after Emmanuel Fiaux, the executive director of UBS Bank was taken into custody and held at the Carmichael Road Detention Centre on Tuesday.
According to reports, he had been stopped by officials and asked to provide proof of legal residency during a road block. A source told The Tribune that Mr Fiaux had explained to the officers that he did not have the documents with him. Mr Fiaux was reportedly irritated by the requests and was said to have been "roughed up" and thrown into the back of a government vehicle and taken to the Carmichael Road Detention Centre.
On Wednesday Ryan Pinder, minister of financial services, told The Tribune that he visited UBS to personally apologise to Mr Fiaux for his treatment by Immigration.