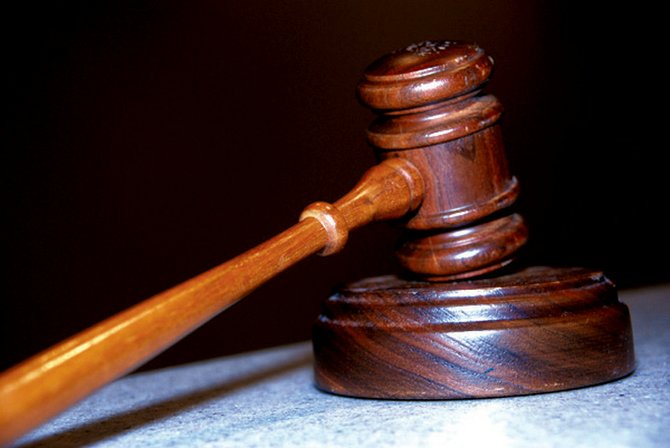 By LAMECH JOHNSON
Tribune Staff Reporter
ljohnson@tribunemedia.net
"NOT GUILTY" was policeman Dwight Smith's response to a charge of indecent assault during his arraignment in Magistrate's Court yesterday.
The officer, who is seeking to be re-elected as Chairman of the Police Staff Association and offering himself as Inspector of the police
executive board, was booked into the Nassau Street police station shortly before being escorted by his colleagues into the Nassau and South Streets Court complex to be arraigned before Magistrate Andrew Forbes.
Magistrate Forbes called Smith before him to answer to a charge of indecent assault, which alleges that he inappropriately assaulted a woman on December 27, 2013.
"Not guilty!" Smith replied.
Prosecutor ASP Ercell Dorsett informed the court that the case was a matter for court no. 9 and that it should be adjourned to January 21 to receive a trial date.
On the issue of bail raised by the court, the prosecutor said he had no objections.
Magistrate Forbes granted Smith $5,000 bail with a suretor, warning him not to have direct or indirect contact with the complainant or witnesses in the case while the matter is before the court.
The magistrate further noted that the suretor needed identification along with a job letter for the court to approve.
"Once that has been provided, then you will be released into the suretor's custody," the magistrate added.
Smith nodded and thanked the departing magistrate before turning to his relatives and offering words of encouragement.
Outside of court, The Tribune spoke with Smith's attorney Devard Francis about what had transpired moments earlier.
"Obviously, and us lawyers, say this in every case, but obviously Dwight is beyond innocent in this," the lawyer claimed.
"And like I said, I find it strange that the Thursday before the staff association elections, which is on Monday, that he would be charged on today's date. When everyone knows that if Dwight had run, Dwight would win the staff association elections hands down."
"I see it almost as a witch hunt by those who are on the police force with him and those politically. I'm extremely disheartened that his family has to see him go through this pain and anguish and having to be going before the courts in handcuffs. Everyone knows Dwight's last fight was for the police officers to be compensated during the 12-hour shift."
Mr Smith has been agitating for overtime pay for officers who worked the 12-hour shift system last year.
In December, Mr Smith said his members are "concerned" that every other union and organization in the Bahamas can get their needs met by the government, but the PSA "hasn't even been invited to the table."
He said it has been months with no word from the Prime Minister or the Minister of Finance over the organisation's concerns.
The association has been calling for compensation for the officers who were on a 12-hour work day schedule. Mr Smith has also threatened to sue over reimbursements, to which Prime Minister Perry Christie said "he was well within his rights to do so."
Yesterday, Mr Francis said that while he is a supporter of the current government, "I'm saddened that Dwight Smith has to see this particular course done to him before Monday of the elections."
"But I would say this, there is no place in the police by-laws – being the staff association lawyer for the past four years – that says that an interdicted officer cannot run for a position in the staff association. So we never know what might happen," he said.
The lawyer said he and his client's family will leave everything in God's hands concerning those who take delight in Smith's situation.
Mr Francis said Smith was expected to meet executive officers at the Royal Bahamas Police Force Headquarters after being released.