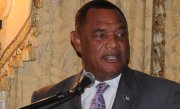 By KHRISNA VIRGIL
Tribune Staff Reporter
kvirgil@tribunemedia.net
THE next referendum scheduled to take place later this year will only focus on gender equality for Bahamian women, Prime Minister Perry Christie said.
Out of the dozens of recommendations put forward during the consultation process, Mr Christie said the government has decided to prioritise the issue when the electorate casts votes no later than June this year.
He said last October that the amendments would be tabled by the end of 2013, however it has yet to take place. In that regard, Mr Christie said the discussions are taking place.
The Christie administration expects to amend the citizenship provision of the constitution to achieve full equality between men and women regarding the acquisition and transmission of Bahamian nationality.
He made the announcement on Friday at the Hilton Hotel as he spoke to reporters following a contract signing between the government and Santec Consultant Services to create a new framework for the 28 airports in the country.
"The government of the Bahamas," Mr Christie said, "has signed off on the fact that the referendum was not going to be confused with any other issue than giving Bahamian women the same position as Bahamian men.
"The discussions are taking place (on when the Bills will be tabled to amend the constitution). I met yesterday (Thursday) with the Chairman of the Constitutional Commission (Sean McWeeney). I have indicated to him that my consultations with the Leader of the Opposition (Dr Hubert Minnis) did not include any deviation from gender equality (and) that the questions were supposed to be entirely to do with that.
"Some new discussions have been taking place with people. I guess maybe with the leader of the Opposition who seems to want to come to Parliament on matters not to do with the Constitution, or not to do with the consultations that we have had. So I don't know what will develop in that area."
Last February, Mr Christie announced that the referendum to reform the country's outdated constitution would be postponed to late November 2013. Later, just one month before in October, he announced that the referendum would be postponed to sometime before June 2014. The reassignment was the result of the Constitutional Commission's request for additional time to complete their work.
At the time, Mr Christie outlined a schedule of deadlines, giving no specific dates, for which the referendum process was to unfold. The amending bills, he also said, will be introduced in the House of Assembly before year's end.