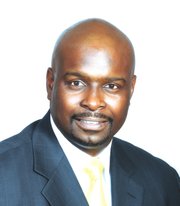 ENVIRONMENT Minister Kenred Dorsett assured workers from the Department of Environmental Health Services (DEHS) who demonstrated in Rawson Square on Tuesday that the issue of their outstanding overtime pay is being addressed by the Ministry of Finance.
"The Bahamian people should note that I have met with the employees of the DEHS and their union representatives on several occasions since assuming this office inclusive of a general staff meeting. At these meetings, I have assured the workers of the security of their employment, of the government's commitment to the regularisation of staff becoming permanent and pensionable, in accordance with established processes and all other matters that I was made aware of.
"I note that the removal of the trucks for repair was also a concern raised by the union. I have reported extensively, via media releases and in the House of Assembly, on the fact that the government owned fleet of garbage trucks was in disrepair.
"I have also informed that the government had taken the position to contract private companies to augment the collection of residential garbage on the island of New Providence instead of acquiring new trucks. I also made the public aware of the companies contracted and that these contracts are on a month to month basis between contracted companies and the DEHS. We now have sought and received the assistance of the Royal Bahamas Defence Force in seeking to complete the assessment of the state of the remaining fleet to enable the government to make certain decisions regarding the repair of trucks."
Mr Dorsett expressed his thanks to Commodore Roderick Bowe and his team for their cooperation and assistance.
"I hereby again state that I have made it clear to the workers that their jobs are secure and that position has not changed. Matters pertaining to outstanding overtime is being addressed by the Ministry of Finance as that line item was removed from the DEHS 2013/2014 budget. We are fairly certain those outstanding payments will be made as soon as practicable. In addition, the process of regularising staff including the establishment of employees is in progress.
"I have made myself available to meet with the staff and union representatives of the DEHS in the past and will continue to do so. However it should be stated that in this instance I was not made aware of any concerns, the intention to demonstrate or any other industrial action. I am willing to meet with the workers and their representatives at an agreed time and date to offer any reassurance and answer any questions necessary, just as I have done before," he added.