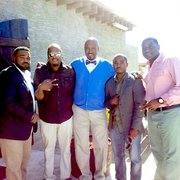 By FARAH
Tribune Features Writer
jgibson@tribunemedia.net
BAHAMIAN musical conglomerate, the Rat Pack, is already off to a busy start this year with plans to release its first album as well as performance gigs and other projects.  
The Rat Pack was started several years ago as a way to bridge the gap between the old generation of Bahamian musicians and the new. They are made up of Dillion "D-Mac" Mckenzie, Mdeez, Sosa Man, and Sammi Starr.
Each artist performs different styles of music: D-Mac performs Rake 'n' Scrape; Mdeez, reggae; Sosa Man, hip hop and Sammi Starr, R&B. What connects them is that they have a keen interest in seeing Bahamian musicians unite despite their differences.
The members of the Rat Pack also pursue individual musical careers.
Over the past year the Rat Pack solidified and became more strategic in developing individually and collectively. The group intends to release its first album before they leave the country to perform at this year's Best of Best in Miami Florida, member Sosa Mann told In Ya Ear.
He said: "We are looking to complete individual extended play albums (ep) before then. Then we will have listening sessions before our albums are released. The albums will drop like a relay; Mdeez will go out first, Sammi's album will be released second, my album will be released third and D-Mac will be released last. The group album will have about four to five songs, and then we will take about two or three songs from our individual albums and put them on the group album."
The Rat Pack has recorded its first song which is in the process of being mixed.
"We have not decided on a titled as yet.  D-Mac is on the hook with Sammi, and M-deez and I have a verse on the song. The song I believe is blended well. It is very close to the sound we are going for.  It has Bahamian rhythms like Rake 'n' Scrape for D-Mac, it has the R&B piano feel for Sammi, it has a hip hop feel for me, and it has a reggae drop feel for M-Deez. We are going to continue making music like this that fuses all these elements. Right now we are going into what we call a work tank for 90 days. We will be focusing on producing music, videos, and photos," he said.
The Rat Pack has a number of performances lined up for February as well as a few charity events. During this month, the group started several new projects including a church tour. Additionally the Rat Pack will also begin school tours sometime next month.
"Both D-Mac and Mdeez will be performing during a charity event. The first few events are non-profit events and this is something we are doing to raise money. Then we have school tours coming up where we will visit various schools. So we will have a lot of opportunities to re-engage and get ready for the Best of the Best performance," Sosa Man said.  
Sosa Mann said the Rat Pack's ultimate goal is to cross over to an international market.
"We want to redo and surpass what Baha Men has done on a world wide perspective in terms of accolades, number one hits and music. That is definitely our ultimate goal. We also want to keep growing as individual solo artists by using the other artists to help boost solo careers. So we would not mind if either of us got a big record deal because we will always come back and do what we need to do as a group. So we are pushing both arenas," he said.