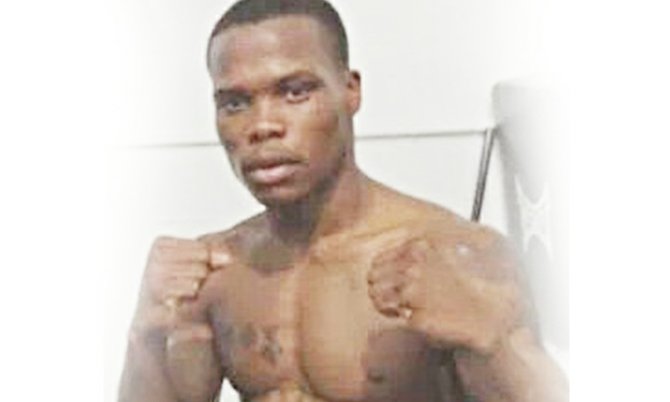 By BRENT STUBBS
Senior Sports Reporter
bstubbs@tribunemedia.net
Professional boxer Valentino Knowles, expected to make a full recovery, said he doesn't hold any animosity for the young men who opened fire on him and his friends on Saturday, January 19, in the Kemp Road area.
Since then, 25-year-old Knowles has been recuperating in the Princess Margaret Hospital from the bullets that pierced through his right leg, left hand, upper right chest and chin.
In an exclusive interview with The Tribune on Thursday, just before he had to undergo surgery today on his foot, Knowles said he spent the past two weeks resting and reflecting on his life that flashed right before his eyes when he got shot five times.
"Life and everything that was ahead of me was the first thing that I was thinking about," said Knowles about his ordeal. "I was conscious, so I know it wasn't my time yet. But I did pray that if anything happened, I would be able to survive it. I did all of the right things that you should do when somebody gets shot. I applied a lot of pressure on the wounds. I did it myself as I waited for the proper medical assistance."
The good thing is the fact that although he has been shot five times, including twice in his hand, none of the bullets from the high-powered gun as he remembered it, stayed in any part of his body.
Even though he was shot in his jaw, Knowles said it's a blessing that there wasn't any damage to his teeth, which has prevented him from having to undergo any dental treatment.
"All of the bullets went in and out," he said. "So they didn't have to rush me into the theatre to cut my body. It would have been worse for me if they had to do it from what I understand."
Resting comfortably in bed with his right foot in a cast and his left hand wrapped supported by a brace, Knowles said he's in good spirits and looking forward to a speedy recovery.
"I hope to move on from this. I'm not going to allow this to keep me down. I will bounce back from this and be even better than before," he said. "The nurses and the doctors are treating me okay and I'm getting a lot of support from my family and friends. They are all encouraging and motivating me."
Prior to the shooting, Knowles said he had just returned from Florida earlier in that week to bring his daughter Valentina home, and to spend the Christmas holiday with his family.
"I was on the internet every day looking at the crime and looking at how it has escalated here at home," he said. "Not knowing that I would come home and be a victim of gunshots. I didn't expect anything like this to happen to me."
Knowles, the first Bahamian to win a bout at the International Boxing Association (AIBA) World Championships, said he believes the shooting was just a random act and not intentional.
"I just want to encourage people to stop the shooting and the nonsense and violence and senseless killing that is going on," he said. "We really don't need this. Our country is too small for this."
Having been shot right near to the Kemp Road Union Baptist Church, Knowles felt there was some divine intervention on his life and he's grateful to God that his life has been spared.
"This is just a test for me. If you don't have a test, you don't have a testimony," he said. "This is my test."
The shooting, according to Knowles, happened during the last weekend that he was to spend in the Bahamas before he was scheduled to return to Florida to resume his training.
He had intended to prepare himself for an anticipated professional show that was being contemplated by Michelle Minus of First Class Promotions as she came out of a hiatus.
In his show of appreciation, Knowles offered his thanks to everybody who stopped by his bedside to visit, called to see how he was doing or offered prayers on his behalf.
"A lot of people have been encouraging me to keep the faith and to stay on the right path and let bygones be bygones," he said. "The positive message that I'm getting is that it doesn't make sense to seek revenge. I'm just trying to stay positive."
Knowles said his wife Tiffany has been by his side from day one doing whatever she can to help him to stay comfortable. He said his family has also been there for him.
"It was a close call, but thank God I'm here. Thank God I'm alive. God still has the last word," he said. "The enemy can burst my flesh, but they can't touch my soul."
During his amateur days, Knowles won a medal at every international meet that he competed in, including the Caribbean Amateur Boxing Association, Commonwealth Games, Pan American Games and the Central American and Caribbean Games.
He turned pro in 2013 and he made his debut with a fourth round unanimous decision over Alejandro Ochoa at the Chumash Casino in Santa Ynez, California on January 25.
His second and last fight was on November 12 when he won another fourth round unanimous decision over Ruben Ozuma at the Seminole Hard Rock Hotel and Casino in Hollywood.