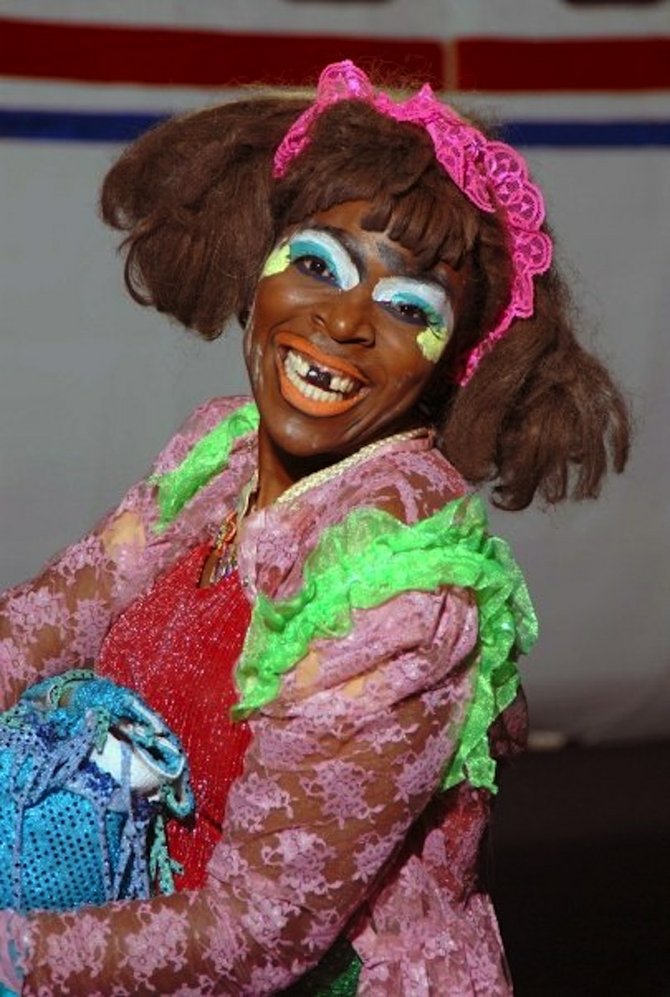 By JEFFARAH GIBSON
Tribune Features Writer
jgibson@tribunemedia.net
THE AUDACIOUS character of Dynamite Daisy, played by Terez Davis-Nixon, has since significantly evolved since her introduction to Bahamian audiences 14 years ago.
Dynamite Daisy's boldness, wit and humour on stage are what people have grown to love about her over the years, and now they can get weekly doses on a new radio show.
Terez' latest undertaking is the launch of the Dynamite Daisy radio show, which airs every Saturday on Glory 93.9 FM. It focuses on a number of issues including parenting, healthy living, relationships, crime, immigration – all with a humorous spin in true Dynamite Daisy fashion. The show also features Dynamite Pastor Trent Davis as co-host.
Terez' said her purpose for allowing Dynamite Daisy another platform is to reach a wider audience on a consistent basis.
"I had persons who always say, 'When are you doing another show?'. So this presented an opportunity for Daisy to be kept in the public's eye weekly with her topical issues. We want to offer inspiration and laughter, because we believe that laughter is medicine. Although there are so many serious things going on in the country we wanted to deal with these issues from a light-hearted perspective. It is our aim that persons be inspired," she told Tribune Arts and Entertainment.
Terez said there are a number of talented individuals in the Bahamas with an interest in breaking into the world of stand-up comedy, but do not have a platform to showcase their skills. She said her show will also feature aspiring comedians.
"I have been doing stand-up comedy for 14 years and there are a lot of people who are interested. They have been asking, 'How can I start?' So during our annual show we have had persons come and join the Dynamite Daisy Production. This is an opportunity for us to feature individuals who people may not know yet, but who are talented and have something to say and something to offer. So we want to give persons with 'clean' comedy that platform. We believe that you can be funny without using profanity or making lewd jokes," she said.
Eventually, Terez said the Dynamite Daisy character will also venture into radio drama.
Since the character's grand entrance into the world of theatre, she has grown in popularity and has appeared countless times on television, in ads and on the stage.
Daisy's staggered, slurred speech, over-the-top hair, garish makeup and outlandish attire serve to present the big picture she desires all to see.
"People assume that Dynamite Daisy is a drunk because she staggers, she slurs and because of her makeup. These are just tools. People listen to her more because she looks like that, but there is a deeper message she has for people. She always says, especially to young people, 'I can turn this on and off, but you can't'," Terez said.
"Daisy is anti-drugs. She uses reverse psychology and she says this all the time: 'I am an example of what a Bahamian should not look like'. She also says that the way she looks is the residual effects of making poor choices. Dynamite Daisy is multi- layered and the person who takes the time to look at her and study her will see that she is not just some stupid person with silly make-up."
While people commend Terez for playing Daisy so well, she said many do not get understand the character and its message, believing that she is "just being stupid".
"This is one of the most disheartening things. When people think that she is just being stupid they miss it. But I am glad when people get the true message of it. Daisy is a very figurative and metaphorical character. The ugly dust wig and the makeup represent the challenges of life, and once that is cleaned off underneath is someone beautiful," she said.
"Ms Daisy has evolved in that she has grown to reach wider audiences. I think she crosses racial and political divides. She is not PLP, FNM or DNA and she says it because she wants to remain universal and just promote Bahamians. She just wants to promote brotherly and sisterly love. She believes in proper relationships with everyone," Terez said.
Dynamite Daisy has toured every Bahamian island with the exception of three. She has also travelled to the Turks & Caicos Islands, Antigua, Detroit, North Carolina, Washington, DC, and Canada.
This year, Dynamite Daisy is also nominated for an Bahamian Icon award in the entertainment category.
In the near future, Terez intends on teaching her craft to others and hosting more workshops for those interested in learning about stand-up comedy and theatre.
For more information, visit dynamitedaisy.com.