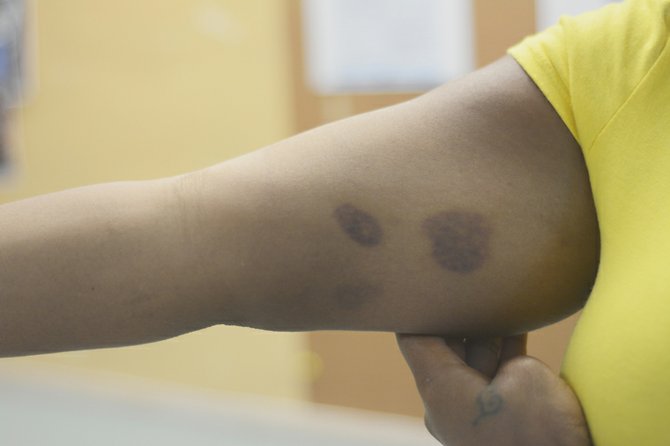 By SANCHESKA BROWN
Tribune Staff Reporter
sbrown@tribunemedia.net
A WOMAN is threatening to sue the Royal Bahamas Police Force claiming she was "attacked" by three plain clothes police officers in her home on Saturday morning when she was completely naked.
Lauralee Strachan told The Tribune she was left embarrassed and bruised after the officers barged into her home off Johnson Road, allegedly without a warrant, to search for someone who does not live with her.
Ms Strachan's 19-year-old daughter, Jaqua, said she was sitting in the living room with her cousin, her sister and her cousin's baby, when the officers allegedly broke down the door around 11am on Saturday.
"We heard a (knock) on the door, my sister asked, 'Who is it?' and no one answered," Jaqua said. "There was a (knock) again, she asked again and no one answered so the door was then (ripped) open. Three males came walking in the house and I asked who they were because they did not identify themselves and they did not have on a uniform."
Jaqua said the women in the living room repeatedly asked the men who they were, but received no answers.
"My mummy was in the bathroom taking a bath and she peeped out to see what was going on and she asked me who they were and I told her I didn't know," she added. "So she went to go put on some clothes and at the same time one of the guys pushed me and I pushed him back because I didn't know who he was."
"They went in the room and I stood by the bathroom door and he tried to pull it open and my mommy was in there. I figured out that they must have been police at this time, so I asked if they had a warrant and still no one answered me.
"I refused to move from the door because my mommy was in the bathroom and he threw me down and the other officer tried to hold me down. He was choking me and trying to cuff me and I couldn't breathe. So I screamed to my mother that I couldn't breathe and when she came to the door, she still had a towel on and they pushed her and kicked her to the floor and the towel came off and she was naked."
Jaqua said she was eventually handcuffed, but ran to a neighbour's apartment a few feet away to beg them to call the police. She said she stayed there until she saw a police car she recognised.
Meanwhile, her mother Lauralee said she put a towel around her body and ran outside screaming for someone to call 911.
She said: "I didn't know if they were police officers or what, so one of the neighbours brought me some clothes and the same time she brought the clothes I saw a squad car and I ran to the police and I said 'Some guys in my house, they didn't show us a badge or nothing, they claim they are police officers, but they didn't show us anything'. I went back upstairs and the officer said I wasn't a decent woman because I ran outside in a towel and honestly I cursed him after that."
Mrs Strachan said she and her daughter were eventually arrested and spent 48 hours in the Elizabeth Estates Police Station before being released on Sunday evening. She said they were not allowed to give a statement. She told The Tribune that once the pair got to the police station, officers told them they were looking for a friend of her daughter's in relation to a stealing matter, which is why they were at her home.
A portion of the incident was caught on camera by Mrs Strachan's youngest daughter, but she said police made her erase the video from her cell phone when they were in custody. However, before it was erased Mrs Strachan said her daughter had already sent it to her oldest daughter.
When The Tribune saw the video yesterday it was clear that someone asked the officers for their badge numbers and they refused to answer. The video also shows a scuffle and a naked woman was seen lying on the floor and two men could be seen on top of what appeared to be a young woman.
Mrs Strachan and her daughter said they filed a complaint at the police force's Complaints and Corruption Unit on Monday morning, but were told it could take up to six months before anything is done. They are currently searching for a lawyer because they say they intend to sue.
When contacted by The Tribune, an officer from the Complaints and Corruption Unit, who did not wish to be identified, confirmed that Mrs Strachan and her daughter did file a complaint on Monday and that the matter is being "actively investigated".