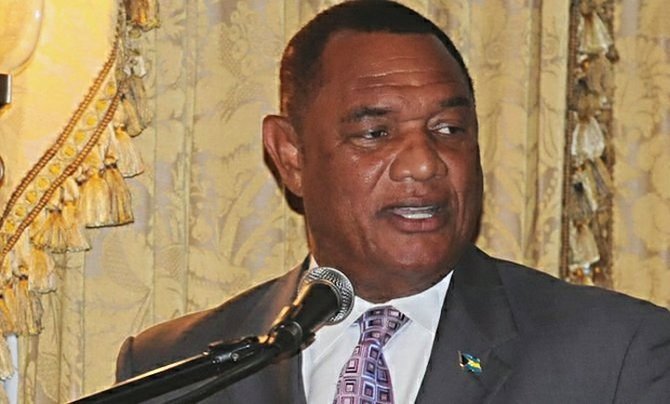 By AVA TURNQUEST
Tribune Staff Reporter
aturnquest@tribunemedia.net
PRIME Minister Perry Christie has ordered a ministerial report on the Bahamas Electrical Corporation in the aftermath of concerns over an $100,000 cash payment made on behalf of its chairman Leslie Miller to settle outstanding debts and the spate of confidential leaks.
Mr Christie told The Tribune yesterday that he expected the report before the end of the week, adding that it outlined recent steps taken by the Ministry of Works at the electricity corporation.
He said: "For me personally, I have to speak to the minister responsible, a report is coming to me. (Mr Davis) knows that I have a view that I have shared with him with respect to this matter, but they are in the process of advising me of certain steps they are taking at the ministry level, which has responsibility for BEC and which will impact BEC."
"The Deputy Prime Minister is abroad and returning, so as soon as he returns," Mr Christie added, "I think over the next 24 hours."
Mr Christie was speaking on the sidelines of a UNESCO Steering Committee Meeting on Underwater Cultural Heritage at Breezes Bahamas yesterday.
He said the report is expected to address "everything to do about BEC".
The BEC chairman has been locked in a bitter feud with the corporation's unions since he was appointed to the post in 2012. 
Mr Miller has said he is being attacked by disgruntled BEC employees and union leaders who have launched an "all out war against him" in an effort to have him fired because he is trying to make changes at the corporation.
Controversy escalated last month, when it was revealed that Mr Miller owed the corporation more than $200,000. Following the reports, a $100,000 cash payment was made on an outstanding bill for Mario's Bowling and Entertainment Palace – a transaction that was later said to be against BEC policy.
During this time, documents were also circulated on the Internet claiming that Mr Miller allowed the End Zone Sporting Lounge to have an illegal direct connection. The sporting lounge is located in the Summer Winds Plaza, which is owned by Mr Miller.
The BEC chairman told The Tribune that the moment he discovered the sporting lounge was hooked up illegally, he spoke with the owner and told him the problem needed to be resolved immediately.
The latest in the BEC saga is the leak that media network Jones Communications owed more than $100,000 to the electricity corporation.
According to a BEC report published in The Nassau Guardian, attempts to disconnect Jones Communications' power supply were repeatedly circumvented by Mr Miller.
However, Jones CEO Wendall Jones told The Tribune that he had a legitimate payment plan to settle arrears, adding that the revelation was an attempt to drag his company into the ongoing dispute between Mr Miller and the union.