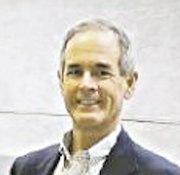 By DENISE MAYCOCK
Tribune Freeport Reporter
dmaycock@tribunemedia.net
US Coast Guard officials have called off their search for 63-year-old Texas chiropractor John E Petty who disappeared on Sunday while scuba diving off West End, Grand Bahama. Although a substantial amount of dive gear has been discovered within the search area there has been no sign of Dr Petty. Petty, a resident of Longview, was with eight others aboard a commercial dive vessel, Shear Water. The group was scuba diving around 4:30pm off Memory Rock, when he failed to resurface, the captain reported.
The news-journal.com in Longview has reported that Petty Officer Jon-Paul Rios, of the Coast Guard station in Miami, said the decision was made after talking with members of Petty's family.
A family spokesman issued a statement on Facebook: "The family would like to thank everyone for the overwhelming support and prayers on behalf of John Petty. The US Coast Guard has ceased its search as of 11am today. After the Bahamian government studied the items recovered in numerous searches, it has been determined that a shark attack was the cause. A memorial service is being planned and details will be posted later today."
Rios has reported that the area where Petty was diving has a large tiger shark population and believes that a fatal encounter with a shark could be a possibility.
The Coast Guard had deployed a substantial number of their assets, including a helicopter, aircraft and cutter vessel in the search for Dr Petty. The Royal Bahamas Defence Force and Police Marine Patrol Unit in Bahamas have also joined in the search.
The search for Petty lasted 64 hours and covered 4,600 miles, Rios has reported.
On Tuesday, search and rescue crews recovered a dive mask. Yesterday morning, a camera and some other diving gear were also recovered within the search area.
The news-journal.com reported that Michael Stroscheim, manager of Jim Abernethy's Scuba Adventures, said the trip was the first time Dr Petty had travelled with the Florida-based outfit and added that crew on the vessel, the Shear Water, followed emergency procedures when he didn't return to the boat.
"John was separated from the boat about 6:30 on Sunday. We are not really sure why. We do know that there was a current," Stroscheim said. "When the crew realised he was not at the boat, they recalled the divers and initiated the search. Our protocol is 10 minutes. After that we contacted the Coast Guard and at that point the Coast Guard takes over," he told the newspaper.
Dr Petty is a member of the Houston Underwater Photography Society and has won awards for his photography.