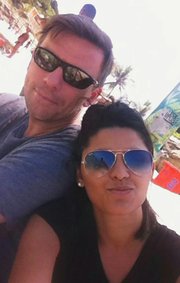 A vacation to the Bahamas turned into a "nightmare" for a US attorney and his girlfriend, who was allegedly subjected to 24 hours of undue treatment by Bahamas Immigration authorities on her arrival at the Lynden Pindling International Airport.
Paul Donovan, an attorney from Boston, said his girlfriend, Jesika de Oliviera is traumatised by the "horrible" ordeal she suffered on July 2 after being denied entry to the country, not being allowed a phone call and allegedly being detained without cause at the Detention Centre.
"She was assaulted, harassed and extorted for money in an environment with no water, food, shower or a private toilet," the attorney further claimed.
Mr Donovan and Ms de Oliviera, a Brazilian, had made plans for a trip to Grand Bahama. He had been to the Bahamas before, but it was her first visit.
She flew from Natal to Nassau, arriving at 11:30am, and was due to take a connecting flight to Freeport six hours later. Mr Donovan said his girlfriend was expected to arrive a day earlier than him in Grand Bahama, where he had rented a villa for a month.
However, things took an unexpected turn when an Immigration officer at LPIA stopped Ms de Oliviera and refused to grant her leave to land.
Mr Donovan said his girlfriend speaks Spanish and Portuguese, but does not speak English well. "As best she could she gave the officer all of the details of our trip, including my name and phone number. She had all the proper documentation, including a passport, return ticket to Natal, the address and phone number where we were staying as well as the name and phone number of the owner," he explained.
He said she was also travelling with $300 of Brazilian currency and was going to convert it on arrival. However, the supervising Immigration officer refused her entry to the Bahamas stating that she did not have enough money with her.
The attorney said the officer was relying on the portion of the Bahamas Immigration Act, which states that a person shall demonstrate that they "are capable of supporting himself ... during such time as he may be permitted to remain in the Bahamas".
He noted that the statute is vague and does not specify how much money a person must have to enter the country.
When contacted by The Tribune, Director of Immigration William Pratt confirmed that Ms de Oliviera was refused leave to land because the officer was not satisfied she was a bona fide visitor. He refused to discuss the matter further.
Mr Donovan said even though Ms de Oliviera told the immigration officer that she was his guest and was meeting him in Freeport, the officer refused to call him or the owner of the villa to verify the information she had given him.
He said the officer took her into custody at the airport, where she was placed in a room with no access to a phone or internet and had no way of contacting Mr Donovan to let him know what was happening. He said at some point she was able to send a text message detailing her plight.
Mr Donovan said after several attempts he got through to an immigration officer named Mr Gordon at the airport who informed him that Ms de Oliviera had been denied entry, was being detained and would be deported because she did not have sufficient money to support her stay in the Bahamas.
"He arrogantly told me that the decision had been made and would not be reversed no matter what I told him, even though there was still time for her to catch the connecting flight to Freeport. I offered to wire money to the airport immediately. He said no. I offered to send copies of my bank statements. He said no. I offered him my itinerary. He said no. He said the supervisor who made the decision had left and that he would not override that decision."
Mr Donovan asked for the supervisor's cell phone number, but Mr Gordon refused to give it to him. He said after a frustrating conversation with the immigration official he took the next available flight to Nassau.
He said while at the airport in Fort Lauderdale awaiting his flight to Nassau, Mr Donovan called again to enquire about his girlfriend. He was told that around 7pm she had been transferred to the Detention Centre.
Mr Donovan said he happened to be sitting next to a Bahamian tourism official and explained the situation. He said he was able to obtain the cell phone number for the director of immigration.
On arrival in Nassau, he said he met with Mr Gordon, the immigration officer. "I pulled out $5,000 US and put them on Mr Gordon's desk and asked him if that was enough money to release Jesika. I offered to show him the exact same documentation that Jesika had showed him regarding our stay and travel plans. Without looking up, he just waved his hand and told the other officer to get me out of his office."
Mr Donovan said he later phoned Mr Pratt and explained situation to him. "He asked me some questions about Jesika. I answered him completely. He then asked why they wouldn't release her. I told him they wanted an order from him. He said that they had the authority to do so without him. I told Mr Pratt they wouldn't."
Mr Donovan said he was told to return to LPIA in the morning and speak to a Mr Ferguson. When he returned, Mr Donovan said he was told that his girlfriend was detained because she had no money on her but he explained that she had Brazilian reals equivalent to $300.
"He said that those 'don't count' because nobody will take them. When I explained that they are easily convertible to dollars at several locations in the Bahamas, he just waved his hand dismissively."
After two hours, he said Ms de Oliviera was finally released and they met up around noon, but she had no idea that he had flown to Nassau. He added that her experience at the Detention Centre was frightening. Ms de Oliviera claims that people at the facility had attempted to extort money from her to be released.
She had nothing to eat or drink, there was no bed or air-conditioning and she was harassed by other male staff and detainees, he claimed.
Mr Donovan and Ms de Oliviera are now in Grand Bahama. They have contacted a local counsel and are considering the possibility of a lawsuit.
Mr Donovan said their encounter with immigration officials was a terrible experience.
"We are not happy about it and I doubt we will come here again after that experience, and we plan on warning people about our experience (here in the Bahamas)."
Mr Donovan said they decided to tell their story to make others aware so that it does not happen to anyone else.
"The immigration officers we encountered need to be properly educated on the law and they need to be replaced with people who understand the law and who have a little bit of commonsense when wielding their power to arrest and detain people," he said.