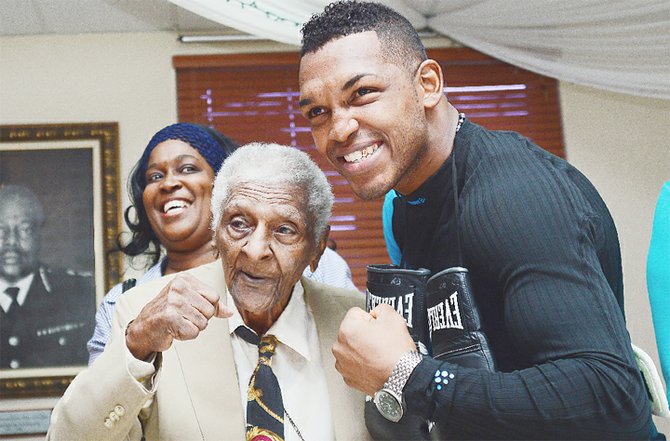 By BRENT STUBBS
Senior Sports Reporter
bstubbs@tribunemedia.net
IT was a hero's welcome for newly crowned World Boxing Council's Continental of Americas middleweight champion Tureano 'Reno' Johnson as the Royal Bahamas Police Force laid out the red carpet in a brief ceremony at the Paul Farquharson Centre on Friday.
Commissioner Ellison Greenslade presided over the ceremony that drew an audience from the high ranks of the force, participants of their Summer Youth Programme and the Toastmasters Club.
Johnson, draped in a black suit with the new belt that he won on Friday, July 11, over Mike Gavronski at the Little Creek Casino Resort in Shelton, Washington, wrapped around his waist and a pair of boxing gloves hanging around his neck, was accompanied by his wife Natania and daughter Tatiana.
Also in the delegation were his parents Ervin and Ikenna Johnson, his grandfather, former builder and entertainer Biminite Nathaniel 'Piccolo' Saunders, who will turn 100 on November 7 (and author of a number of songs including 'You never get a licking until you go down to Bimini,' his uncle-in-law Rev Clement Saunders and his wife, Deborah, of Kingdom Come Ministries and his sisters, including Kayla Johnson, one of his coaches.
Greenslade, who was accompanied by the top brass in the force, said it was an honour to give credit where credit is as they seek to provide alternatives to the crime that has wreaked havoc on our society.
"When you have a young man that has been performing as well as this young man, we have to stop and give him the accolades that he so rightfully deserves," said Greenslade, who hails Johnson as the Police Force boxing champion.
Greenslade said he was impressed with Johnson's pleasant and humble demeanour from the first day that he contacted his mother and invited him to come and see him at his office. He said what struck him the most was how Johnson put the focus on God and never once made it an issue of his own personal gratification.
A brief video recording of Johnson's victory over Gavronski was placed for the packed auditorium to relive the moment.
Johnson, 30, had arrived in a Police escort limousine from his parents home in Pinewood. When he arrived, he was ushered in by Greenslade and his fellow officers to the tone of the Rickey theme song, as played by the Police Force pop band.
Before he took the stage to address the audience, Constable Cory Hield, accompanied by the band, serenaded him to the song "Happy."
Nobody was more happy with the gesture than Johnson. He advised the crowd that it was "God and God alone that gave him the victory" as he disclosed that he was 15 pounds overweight for the fight.
By the time he got to the weigh-in, he was still two pounds over. After finally making the weight, Johnson said when he stepped into the ring for the first round, he was dehydrated and obviously not at full strength.
"When I looked back at the fight, that wasn't me in there throwing those uppercuts and right hands," Johnson said. "It had to be God because I really didn't have the strength or the energy to compete."
Johnson said a good son maketh his father proud and that he said doesn't just mean your biological father, but those who are in authority and he feels he has been able to make everybody proud, including his parents and his wife, who has been there with him through all of his adversities.
"Yes, I got knocked down a few times and I took my blows. In fact there were moments where I wanted to give up, but I give the Almighty God thanks and glory because I know the one true champion who ever walked this earth was Jesus Christ when he died on the cross and he broke the barrier and he overcame death and the grave."
In advising those who may feel the urge to quit, Johnson said the best thing to do is get down on bended knees and go directly to God in prayer and tell him all of your problems and allow him to bring you through.
Valentino Munroe, the president of Toastmasters Club 1600, said their presence was just to show their commitment to the young people of our nation and indeed the success of a champion that they all can emulate.
"One of my members said he thought you had a conch shell in your gloves, but I just think that you had some old Bahamian conch salad in your body," Munroe said. "So champion, we salute you for having the courage to go out there with just your fists and your muscles.
"Young people, if you want to fight, that's where you should take your fight - to the ring. One time ago, that represented manhood. If you wanted to fight, take it to the ring. No cutlass, no bottles, certainly no guns. Only the coward uses weapons to win, especially on unsuspecting victims."
Johnson, who was returned home with his family in the Police escorted limousine, was treated to a number of celebrations by his family over the weekend. He is due to return to Florida this week to resume his training for his next fight which is expected in about two weeks.