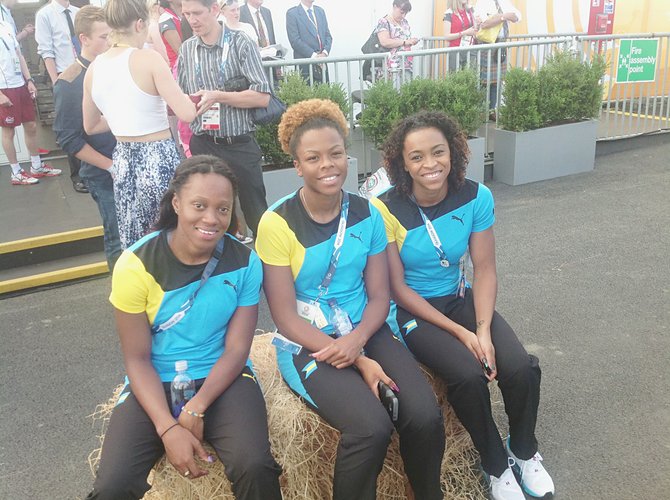 By BRENT STUBBS
Senior Sports Reporter
bstubbs@tribunemedia.net
GLASGOW, Scotland — They will have another three days before their competition starts, but members of the athletic team are slowly making their way to Scotland for the 20th Commonwealth Games.
For those who are already here, the experience has been breathtaking, but they are all eagerly anticipating the final week at the games in a discipline that the Bahamas has achieved a wealth of success in the past.
Sprinter Adrian Griffith is one of the few athletes on the team who has had any Commonwealth Games experience under his belt. He attended the last games in New Delhi, India in 2010, but already likes what he's seen here so far.
"I just want to thank God for allowing everybody to reach here safe," he said. "The village is nice, the food is awesome, everybody is friendly and we are really enjoying our time here.
"Compared to India, it wasn't as organised as this one when we got there, but at the end of our trip, everything was organised. Here everything is organised and it's going very nice. We're just here to compete and have fun."
While he is a part of the athletic team that tends to steal all of the spotlight from the other disciplines, Griffith said he's rooting for the whole squad wearing the Bahamian flag and he intends to root for all of them just as he would for his team-mates.
"I'm going to go to the boxing, the swimming, the wrestling, the judo and even the cycling if I'm not competing. I'm here to support everybody on our team. So I think everything is going to do very well."
He is entered in the men's 100 metres along with national champion Shavez Hart and runner-up Warren Fraser. Together, Griffith said they intend to run even faster than they did at the Bahamas Association of Athletic Associations' BTC National Championships when they posted the fastest race ever ran on home soil.
For the record, Hart stopped the clock in 10.11 for his national title. Fraser ran 10.14 for second, ahead of Griffith's 10.18 for third.
"I want to get to the final and medal," said Griffith of his expectations for the games. "I went to the semifinal last time, but I want to do some big things here. Once I remain healthy, I know that it will be great. I'm also looking for both Shavez and Warren to also run well because they are having a good season too."
On the women's side, national champion Anthonique Strachan has withdrawn from the team. According to team manager Ralf McKinney, she submitted a letter asking to be excused after she suffered a slight injury at her last meet a week ago in preparation for the games.
Instead, two of the talented young sprinters in Sheniqua 'Q' Ferguson and Nivea Smith will be out to claim their success in the 100 and 200m. This is their maiden voyage to the games, but they are just as thrilled as everybody to be in Glasgow.
"This is just like the World Championships and the Olympics in terms of the atmosphere," said Smith, a native of Grand Bahama. "I just got in today, but so far it's been good."
As she tries to suck up the last few days before she contests the 200m, Smith said she just wants to go out there and run well.
"I know that the competition is going to be very good, but I'm ready to run," she said. "I really think it's going to be a good meet for me. I hope that I can at least make the final and if I do, I want to compete for a medal."
Ferguson, on the other hand, was originally scheduled to compete in India, but she opted out to concentrate on her studies at school as the games clashed at the same time. Having competed at both the Olympics and the Worlds, she feels she's more than prepared for the challenge here.
"I feel pretty good and it's really good to be here and to be a part of the team," she said. "I just want to go out there and enjoy the experience with the team."
Like Smith, Ferguson only just arrived and her priority is getting to know the other competitors from the Bahamas team because she only knows the swimmers, some of whom she met before. But she's hoping that over the next few days, she will get to know the other members before and after they compete.
"We are all Bahamians. We will find a way to jell. It doesn't matter where, what sport and who you are," she said. "Once you are a Bahamian, we will jell together. Most of us don't know some of the members of the team, but you don't want to be this far away from home and you don't know who is here."
As for her own personal aspirations, Ferguson is still looking for her first appearance in a final at any of the major international meets and she's hoping that this will be her breakthrough.
"You always want to get on the podium and so I think the goal for any athlete here is to be on the medal podium or as we all say 'go out there and have a great competition.' As athletes, you always want to put your best foot forward.
"So for me, I just want to be able to run my season's best and get to the finals and go from there."
Making his debut as well to the Commonwealth Games after he got his first taste of global competition at the IAAF World Championships last year in Moscow, Russia, is 400m hurdler Jeffery Gibson.
The Grand Bahamian, who turns 24 on August 15, said his ultimate goal is to medal, but he will be quite satisfied if he can get into the final.
"I looked at a few of the athletes competing here and the results from last year and I am trying to endure the three rounds that I will have to go through this year," he said.
"I'm feeling pretty good. I know with travelling, I wasn't able to shake out today and really loosen up, but I know we have a couple of days to go before we compete, so I hope to sharpen up a bit before the competition gets underway."
As one of the newcomers to the senior level, Gibson said he's even more intrigued by the fact that he will get to see some Bahamians compete in the other sports for the first time.
"We have a good chance to do some great things with the other sports and put on a good show here, so I'm really supporting my team-mates and everybody else."
Most of the competitors, with the exception of the cyclists, would have been done by the time the athletic competition swings into high gear next week. So by then, the Bahamas will already have some success to celebrate before track and field takes over.